Report: Nigeria is the Most Crypto-Aware Nation
Nigeria has an active part of its population involved in cryptocurrencies.
Respondents in Japan were the least likely to believe in the importance of digital privacy.
79% of the surveyed users want more control over their data.
---
According to a global survey with participants from 15 different nations, Nigeria, the largest economy in Africa, has the most individuals who are aware of cryptocurrencies in the entire world. The global Web3 perception poll, conducted by ConsenSys and YouGov, aimed to offer both macro and regional insights into how various nations view cryptocurrencies and the larger Web3 community.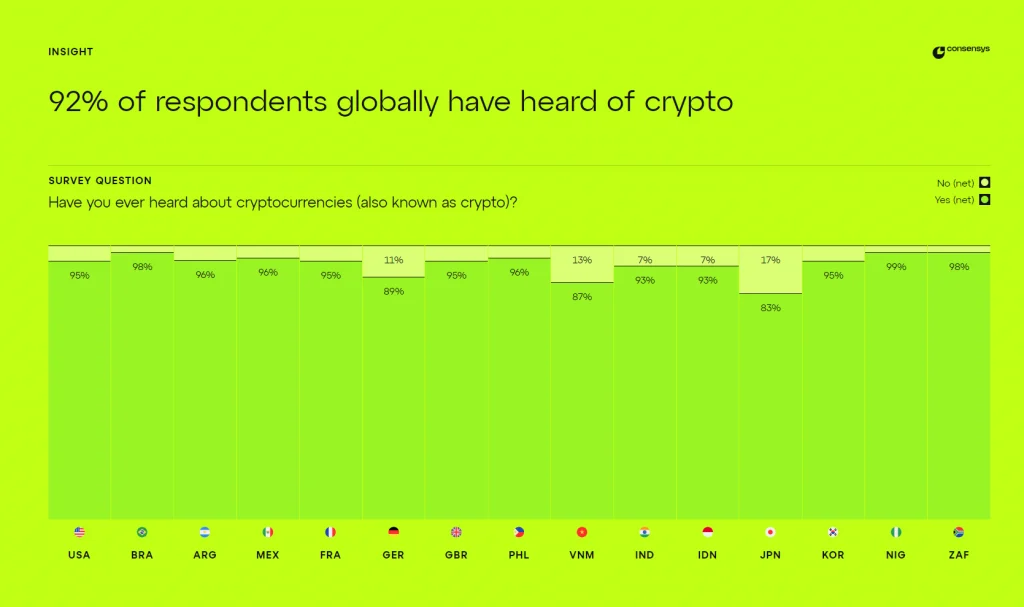 The poll's main findings indicate that South Africa and Nigeria are the two nations with the highest levels of crypto awareness. Interestingly, 99% of Nigerians and 98% of South Africans showed a higher awareness of Web3 compared to participants from developed nations, including Germany, the US, and Japan.
In addition, 76% of the 1,001 Nigerian respondents surveyed said they own or have previously owned cryptocurrencies. This figure represents one of the highest statistics among the nations surveyed.
The survey featured respondents across different age groups, from 18 to 65. In addition, 70% of those polled from Nigeria claimed they were familiar with the fundamental ideas behind blockchain technology.
Furthermore, 90% of the Nigerian participants said they planned to invest in cryptocurrencies in the coming year, and 65% said they saw cryptocurrencies as a way to protect themselves from deflation and hyperinflation.
Nigeria, like most developing nations, has struggled with inflation in recent years. As a result, Nigerians rely on cryptocurrencies, especially stablecoins, as a hedge against their capital. The report also showed that Ethereum and Bitcoin were the most popular cryptocurrencies.
Nigerian respondents also commented on the poor regulatory framework in the country. Recall that in 2021, the Central Bank of Nigeria announced a ban on the relationship between crypto exchanges, businesses, and regional banks. So, 50% of respondents said that policymakers should draft regulations that promote engagement while safeguarding investors.
Regional Differences
The report also observed a major difference when comparing behaviors across regions. European nations have a higher level of skepticism against crypto than other nations. However, Asian giants such as South Korea and Japan share the same skepticism.
These nations have a greater tendency to associate cryptocurrencies with dishonest ideas, including fraud, money laundering, and speculation. The majority of Southeast Asian, South American, and African nations, on the other hand, generally have more positive opinions regarding crypto and Web3. As a result, they believe cryptocurrency is the future of money.
Similarly, users from these regions believe Web3 will change digital ownership or will serve as an alternative to the established financial ecosystem. These regions also see cryptocurrency as a significant means of gaining access to global finance and safeguarding against inflation.
Latest News