Bitbuy Review 2022: Read This Before Signing Up
Overview
To this point, the majority of our assessments of cryptocurrency exchanges have focused largely on discussing crypto exchanges and trading platforms that were located in the United States and targeted to investors from that country. On the other hand, there is a wide selection of platforms available to overseas traders and investors who are interested in gaining access to crypto assets.
Bitbuy is one of these sites, and it is widely regarded as one of the best places for Canadian citizens and residents to engage in bitcoin trading. In this study of Bitbuy, we conduct an analysis of the platform and determine the categories of investors who would benefit most from using it.
What is Bitbuy?
As was just said, Bitbuy is an advanced trading platform that was established with the primary goal of catering to crypto fans in Canada. Bitbuy is the optimal option for everyone located in Canada who is interested in trading crypto assets and who is looking to do so.
It was first established in 2013 by Ademar Gonzalez and Adam Goldman, and it provides trading solutions for investors of all experience levels, from novices to seasoned pros.
It provides access to a number of other cryptocurrencies, including as Bitcoin, Ripple, and Bitcoin Cash, among others. In the next section of our review, we will go into further detail on its whole spectrum of available options.
Bitbuy Review – Pros
The trading platform offered by Bitbuy has with it a number of benefits, some of which are as follows:
Suitable for Beginner and Advanced Traders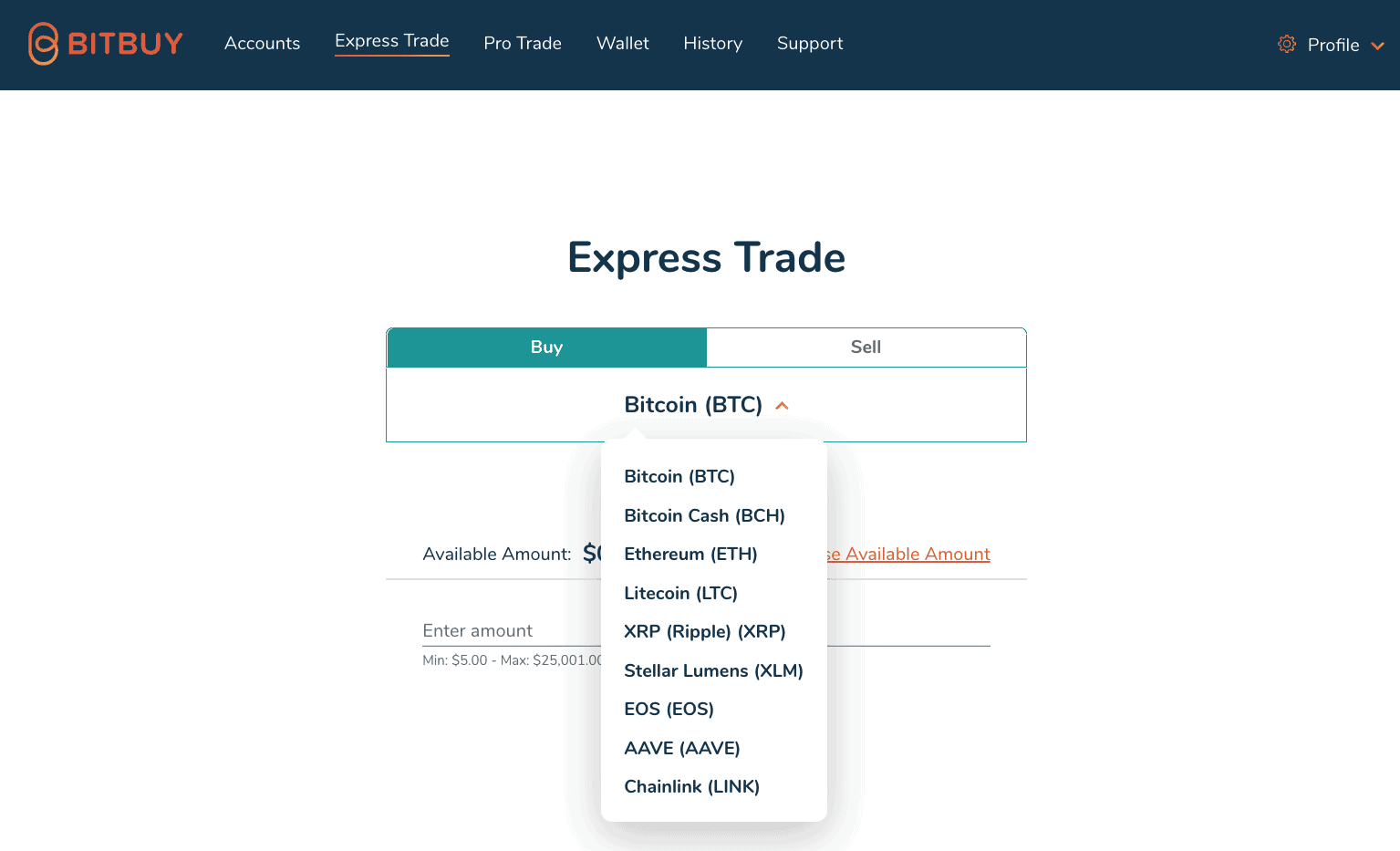 Because it is the most significant cryptocurrency exchange in Canada, Bitbuy has established two distinctive service offerings that make it appropriate for novice as well as experienced crypto investors. As a result, Bitbuy's target market is significantly expanded as a result of these developments.
The Bitbuy service offering includes a trading mechanism that just requires one click, which makes it possible for inexperienced investors to place orders right away. Simply making use of one mouse click is required to activate this process. In this regard, the process is as simple as the users selecting the asset that they want to trade, inputting the amount that they want to exchange, and clicking on the button that corresponds to either the buy or the sell option.
By delivering a platform that has been developed extremely simply and is very straightforward to browse, the fundamental Express Trading mode performs a very excellent job of fulfilling this requirement in an effective manner. There are no superfluous choices, and users are able to navigate among the selections without any difficulty. This stops novice investors from feeling frightened by the huge number of tools and possibilities that are available to them, which keeps them from becoming overwhelmed by the prospect of investing.
In addition to its standard user interface, the Bitbuy platform also offers a more sophisticated one, which is utilised mostly when dealing with the site's more seasoned customers. These customers typically demand a variety of tools and options so that they may better examine their transactions and make judgments regarding their trading based on more accurate information.
Users get access to the full trading interface and are able to make use of all of the tools that are available to them through the sophisticated Bitbuy trading platform.
The fact that the Bitbuy exchange provides two distinct platforms makes it acceptable for investors who are at various stages along the learning curve, which contributes to the overall appeal of the platform.
Insured Crypto Holdings
All of the cryptocurrency holdings that are managed through the Bitbuy platform are protected by an all-encompassing insurance policy that was purchased through BitGo. Users' cash are protected in this way so that they won't lose them even if the platform is compromised in some way and becomes the target of an attack or a breach.
The fact that crypto assets on the Bitbuy exchange are totally covered by insurance is a significant factor that may sway investors' decisions to channel their capital through the platform.
Pre-Transaction Calculator
Slippage is one of the most significant parts of trading that experienced traders need to be aware of and be prepared to account for when they are doing so. Advanced traders also need to be prepared to account for slippage.
This is due to the fact that the market conditions may have changed somewhat between the time an order was placed by a trader and the time it was executed, which implies that the prices at which the order was placed and when it was executed were not identical. This is because there is always the risk of the market moving.
The majority of the time, this variation is so negligible that it does not actually make a difference; but, for frequent traders who have a very large trading volume, these seemingly insignificant variances may have a significant influence on the amount of profit they make.
In addition to this, many different trading platforms have fee systems that are not particularly transparent, making it very difficult for traders to understand what costs they will be required to pay on any given deal. Because of this, it is impossible for traders to figure exactly how their profits would appear on every particular deal.
On the other hand, when compared to its rivals in both of these respects, Bitbuy is in a superior position. It provides a pre-transaction pricing calculator, which enables users to see precisely what prices their trades will be conducted at and how much fees they will be required to pay for every transaction before the deal really takes place.
For high-frequency traders, such as those who employ scalping trading tactics, the pre-transaction price calculator is an extremely helpful piece of trading software to have at their disposal.
Highly Regulated
The world of cryptocurrencies is still in its infancy and seeing rapid expansion; yet, exchanges are not regulated in the majority of nations.
Investors have a challenge as a result of this situation since they could want to put their money exclusively on regulated platforms, which provide a better level of protection against fraud and other types of issues.
Bitbuy is the only cryptocurrency exchange in Canada that is governed by applicable regulations, making it one of the very few regulated cryptocurrency markets in the whole globe.
It has been licenced by the Ontario Securities Commission (OSC), which gives the bank a degree of validity and reassures investors that the money they invest through the Bitbuy platform is safe to do so. This gives the bank a degree of validity and lends the bank a degree of legitimacy. The bank now has a higher level of credibility according to the OSC.
In addition to this, Bitbuy has also registered with the Financial Transactions and Reports Analysis Centre of Canada (FINTRAC) as a Money Services Business. FINTRAC is an additional regulatory organisation that focuses exclusively on brokerages and exchanges.
Security Measures
When compared to other of Canada's other cryptocurrency exchanges, the platform's trading volume is very high. This is due to the fact that it is regulated and provides users with access to a diverse range of cryptocurrencies on which they may trade.
Despite the fact that this is unquestionably a positive development, it also brings with it the possibility of being the target of cyberattacks and hacks. As a result, Bitbuy needs to ensure that its security measures are always of the highest possible standard in order to protect itself from these dangers.
It is important to note that the methods used by the platform are industry-standard, and this helps to ensure that the funds and data that are stored on the platform are kept as securely as is reasonably possible. Although the platform's security measures will be examined in greater depth later in this review, it is important to note that the techniques used by the platform are.
Customer Service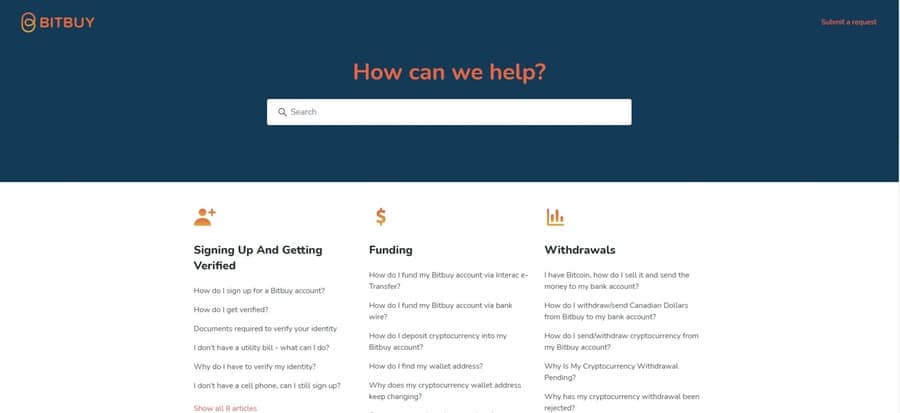 Bitbuy's customer service is widely regarded as being among the very finest in the cryptocurrency sector, which is another way in which the company distinguishes itself from the vast majority of other cryptocurrency exchanges. For instance, the user community has access to customer care 24 hours a day, seven days a week, for both straightforward and more involved concerns.
The customer care strategy that is used by the platform is a three-pronged strategy, which includes the following:
Users are able to acquire answers to their fundamental questions using the platform's round-the-clock live chat feature.

Bitbuy also provides consumers with the option to contact customer service by phone if they want more individualised assistance or instructions to resolve their issues.

Last but not least, email assistance is offered for particularly complicated issues that might require some amount of time to resolve; nonetheless, even for these kinds of issues, Bitbuy provides exceptionally fast turnaround times.
In addition to all of these capabilities, the Bitbuy platform also has a Frequently Asked Questions page that is quite comprehensive and may be utilised by traders who are experiencing frequent concerns.
Bitbuy Review – Cons
The Bitbuy trading platform is much like every other coin in that it has both positive and negative aspects. The following are some of the problems that might be encountered when using the platform:
Limited Range of Cryptocurrencies
Bitbuy is one of the major cryptocurrency exchanges in Canada; but, in comparison to other bigger and more established worldwide exchanges such as Binance and Coinbase, it only provides a relatively restricted selection of cryptocurrencies for trading.
It is crucial to note that some of the most prominent cryptocurrencies in the world are conspicuously absent from the Bitbuy platform, even though we will get into the specific range of cryptocurrencies that you are allowed to trade on the Bitbuy platform in the next section of this review.
However, at the present, customers may only trade a select few crypto assets through the site. This limitation will likely change in the near future. Bitbuy has made the assertion that it plans to keep adding new cryptocurrencies to the platform whenever and however it is able to do so.
Only Accepts CAD
The fact that the site will only let you make deposits and withdrawals in Canadian Dollars (CAD) is yet another drawback linked with using it.
Despite the fact that this function is ideally suited for the vast majority of Canadian traders and investors, it may provide a challenge for Canadians who are employed online and paid in a number of different currencies.
Additionally, this can be an issue for those who wish to deposit their funds into Bitbuy using a different currency because they will be required to pay a currency conversion fee, which is typically a process that is both time-consuming and costly. Additionally, this can be an issue for those who wish to deposit their funds using a different currency because it requires them to pay a currency conversion fee. Those customers who intend to use a currency other than Bitcoin to deposit funds into their Bitbuy accounts will be asked to pay this charge.
Expensive Withdrawals
Bitbuy has some of the highest withdrawal costs of any cryptocurrency trading platform, as will be covered at length in the Fees section of our Bitbuy review. You'll find this information in the Costs subsection of this evaluation of Bitbuy. Because there are two stages to the Bitbuy verification process.
To provide just one example, the costs associated with making a CAD deposit or withdrawal using your Bitbuy account will range from 0.5% to 1.5%, depending on whether you are using a bank transfer or a credit or debit card. Compared to using a credit or debit card, which will have a larger cost, a bank transfer will have a lesser fee.
If you want to use cryptocurrencies for deposits and withdrawals, you'll still have to pay larger costs than you would with the vast majority of brokers in this industry. This broker's costs are proportional to the amount deposited or withdrawn, therefore it seems sense that they would be high. For instance, you'll have to pay a mining charge to Bitbuy that can range from $1 to $20, on top of the gas money you'll have to spend on the transaction. The price of petrol and the transaction charge are both included to this total. These costs are inherent to bitcoin mining and must be covered.
Bitbuy – Cryptocurrencies Available
As we have mentioned in the past, Bitbuy is the most significant cryptocurrency exchange in Canada, and the reason for this is practically directly attributable to the fact that it provides its customers with a variety of cryptocurrencies that are straightforward to trade.
The following cryptocurrencies are included on the comprehensive list of digital assets that customers of Bitbuy are able to exchange with one another:
Bitcoin (BTC)

Ethereum (ETH)

Litecoin (LTC)

Stellar (XLM)

Bitcoin Cash (BCH)

EOS

Chainlink (LINK)

AAVE

Uniswap (UNI)

Polkadot (DOT)

SushiSwap (SUSHI)

Dogecoin (DOGE)

Polygon (MATIC)

Solana (SOL)

Cardano (ADA)

Decentraland (MANA)

USD Coin (USDC)

ApeCoin (APE)

Terra (LUNA)
Bitbuy Fees
There are two categories of fees that are charged by any trading platform: trading fees and non-trading costs.
Bitbuy Trading Fees
Trading fees, also known as order execution fees, are the costs incurred by users when placing orders on a platform and having those orders carried out. The vast majority of cryptocurrency exchanges collect trading fees in one of two ways: they either charge spreads or commissions. Spreads are the more common of the two.
Spreads
Spreads are defined as the difference in price that exists between a bid price and an ask price. This concept is predominantly utilised by market-maker trading platforms, who take on the role of the trade's counterparty in order to facilitate the transaction. Because of this, it might be said that you are trading against the platform itself.
When this happens, the purchase price of the item is higher than the selling price at any given time. This is due to the fact that the asset's liquidity is directly proportional to its purchase price.
The spread is the gap between the asking price and the final selling price, often known as the bid price. In most cases, the final amount paid will exceed the original asking price.
In reality, you would incur a loss if you tried to purchase and sell an item at the same moment, because you would be paying transaction fees on both.
Commissions
A flat commission will be applied to each and every deal that you execute, which is the other type of trading cost that an exchange may charge you for.
This is often a relatively tiny proportion of the trading volume and is calculated in a manner that decreases over time. This means that the bigger your trading volume, the lower the fees that you will be required to pay in this respect.
Costs Involved With Bitbuy
On Bitbuy, the trading costs that you will be responsible for paying are going to be determined by whether or not you use the Pro platform.
Each type of order you place on the Pro Trade platform will result in a different fee. A charge equivalent to 0.20 percent of the value of the transaction will be assessed if the market order is executed at the current price.
However, the fee is just 0.10 percent of the entire transaction value if you use a limit order, which specifies that the order will only be executed if the price is greater than or less than a specified figure that you set. Put simply, if you place a limit order, it won't be fulfilled until the current price is at or below the specified threshold.
A one-time fee equal to 0.20 percent of the order total will be added to your total if you use the Express Trade feature. No of the total price of the order, this fee will always be applied.
Bitbuy Non-Trading Fee
In addition to the price for conducting trades, cryptocurrency platforms will often levy a wide range of other fees and levies as well. These are covered in further depth in the next section.
Deposit Fees
In order for consumers to be able to deposit money into their accounts, the majority of cryptocurrency exchanges need users to pay a fee.
When making a deposit with Bitbuy, the fees associated with that deposit will be determined by the form of the deposit that you select.
For instance, if you want to make a deposit using the Interac e-Transfer, you will be required to make a deposit of at least $100 and no more than $20,000, and the fees connected with this method are 1.5%.
However, bank transfers have a minimum need of $20,000 and a maximum requirement of $500,000, and the costs linked with it are 0.50% of the transfer amount.
The fees associated with depositing cryptocurrencies are variable and depend on both the cryptocurrency that you choose to deposit and the network that you utilise.
Withdrawal Fees
If you want to take money out of the platform, the majority of cryptocurrency exchanges will charge you fees when you do so. These costs are comparable to the deposit fees.
When you want to take money out of your Bitbuy account, there are fees connected with the process. These fees vary depending on the mode of withdrawal that you pick.
For instance, if you use the Interac e-Transfer, you will be required to withdraw a minimum of $50, while the maximum amount that may be withdrawn is $20,000. The fees connected with using this service are 1.5%.
Bank transfers, on the other hand, have a minimum need of $20,000 and a maximum requirement of $500,000, with a charge of 1% connected with each transaction.
The fees associated with withdrawing cryptocurrencies vary depending on the particular currency being withdrawn as well as the network that is being utilised.
Bitbuy Features
As a participant in the cryptocurrency ecosystem, Bitbuy provides its consumers with a variety of different services, which we will go over in more detail in the next section.
Express Trade
This function was created with novice investors in mind and gives them the ability to make orders without first looking at any of the modifications or more complex tools that are available for the same purpose.
To place an order on the Express Trade platform, a user need merely go to the website, select the cryptocurrency they wish to purchase, set the desired purchase amount, and then click the buy or sell button. The user's participation has finished here.
After then, the transaction is carried out straight away.
Crypto Wallet
Users of Bitbuy also have access to a cryptocurrency wallet, which can be used for the completion of transactions as well as the simple withdrawal or deposit of cryptocurrency funds.
Even though the wallet is not as complex as the wallets given by some of the platforms that have been around longer, it helps assure that users will be able to simply transfer their crypto assets to another platform.
Pro Trade
Because the Pro Trade platform was developed for more experienced traders, some of the fees involved with completing transactions are cheaper than those charged by competing platforms.
The Pro Exchange platform gives customers the ability to trade cryptocurrencies for both Canadian Dollars and other cryptocurrencies as well as for Canadian Dollars.
Users also have the choice, according to their preferences, to place orders with either the market price or a limit price.
OTC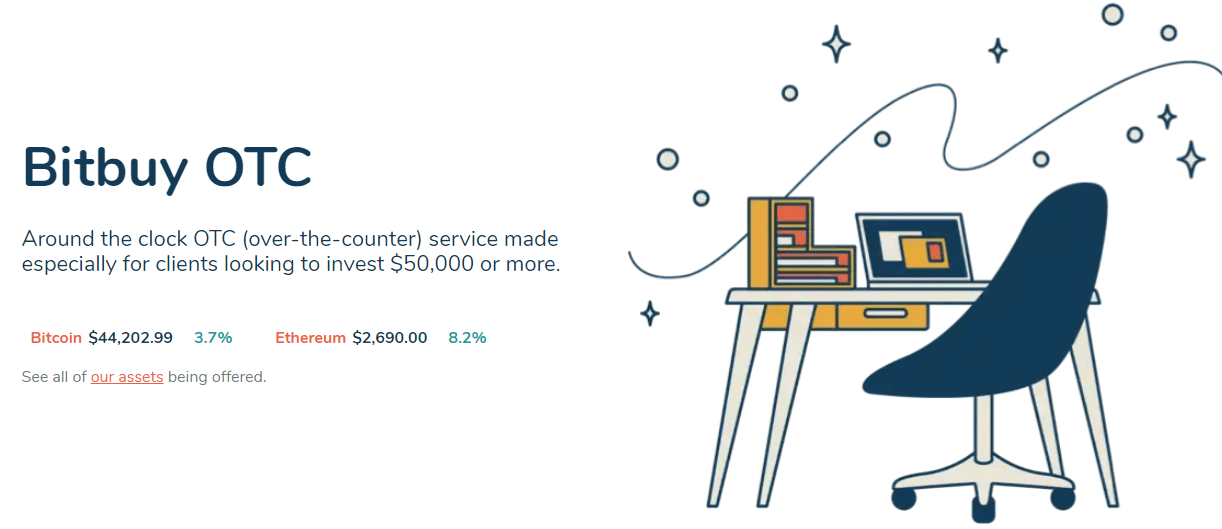 For customers who place larger orders or who may want more support in negotiating particularly delicate transactions. Because orders through the OTC platform may only be placed if they are greater than $50,000, this type of platform is best suited for dealing with substantial sums of money.
The over-the-counter (OTC) trading platform that Bitbuy provides has a number of benefits connected with it, including the following:
Offers of Competitive Prices
Consumers have access to low pricing through the OTC trading platform, which are established in real time by the forces of demand and supply that are exerted on the platform by users situated all over the world in various parts of the world.
Live Quotes
Additionally, the platform provides real-time price quotations for bigger financial transactions, which assists in reducing the amount of slippage that occurs during these transactions.
FINTRAC Regulated
OTC trading platform Bitbuy is controlled by FINTRAC since it is a licenced MSB (Money Service Business), which gives it a reliable medium for carrying out OTC transactions.
Bitbuy Review – Security
There are various reasons why Bitbuy is considered to be one of the most secure cryptocurrency exchanges in Canada currently available on the market. The following are some of the most important preventative measures that are taken by the platform:
2-Factor Authentication
Two-factor authentication, often known as 2FA, is a security measure that prevents unauthorised users from accessing their online accounts by requiring the user to provide both a password and a unique code generated by their smartphone.
Information Security
Because the source code used in the construction of the exchange is kept secret, there is no chance that it could ever be compromised. In addition, the platform stores 95% of all assets in cold storage, where they are protected from both physical theft and digital intrusion.
Regulatory Compliance
FINTRAC classifies the platform as a regulated MSB, which stands for money service business.
Custody
Because the platform does not rely on any third-party services for the custody of the assets that are exchanged via it, every wallet that is stored on the platform is completely independent from the network.
Bitbuy Review 2022 – Final Verdict
Bitbuy is a Canadian cryptocurrency exchange that provides its users with a number of benefits, including a robust customer service foundation, minimal trading costs, and a broad variety of features and capabilities. Because of all of these factors, it is an exceptionally convenient platform for consumers in Canada who are interested in entering the world of cryptocurrency trading.
However, there are some limitations to the platform that must be taken into account. Users may only buy and sell the most popular cryptocurrencies like Bitcoin, Bitcoin Cash, and Ethereum, which severely limits the market's depth and breadth. This is so due to the limited number of available cryptocurrencies. It's also quite expensive to make a deposit or withdrawal using the site. The cryptocurrency exchange is not suitable for foreign investors because it exclusively deals in Canadian dollars. Because of this, international investors cannot participate in the exchange.
Latest News