Overview
No step in the trading process is more important yet frequently disregarded than choosing the right trading platform for your needs, regardless of how experienced you are or how new you are to the world of cryptocurrencies.
In this Crypto.com review, we will look at Crypto.com as a broker and see who the greatest traders or investors are.
What is Crypto.com?
The cryptocurrency exchange Crypto.com offers a variety of trading and investing options, as well as features and functionalities including staking, wallets, and NFTs.
With the help of the Crypto.com software and exchange, users may trade more than 250 cryptocurrencies for less money than is customary in the market. Additionally, customers may save money by investing in the Crypto.com currency, as we shall show in the fees section (CRO).
A full-fledged crypto ecosystem with a variety of features and services, all of which will be covered in more detail below in this review—has grown out of what started out as a simple cryptocurrency exchange in 2016.
Although it is not a licenced exchange, it works with regulatory bodies throughout the world and has grown over the years to make trading as straightforward and hassle-free as possible for traders.
One of Crypto.com's signature products, which we will explore in more detail below, is the Crypto.com Visa Card, which enables clients to instantly make bitcoin payments at a variety of businesses across the world.
Crypto.com Review – Pros
The Crypto.com exchange and app have several pros associated with them, which include:
Large Selection of Cryptocurrencies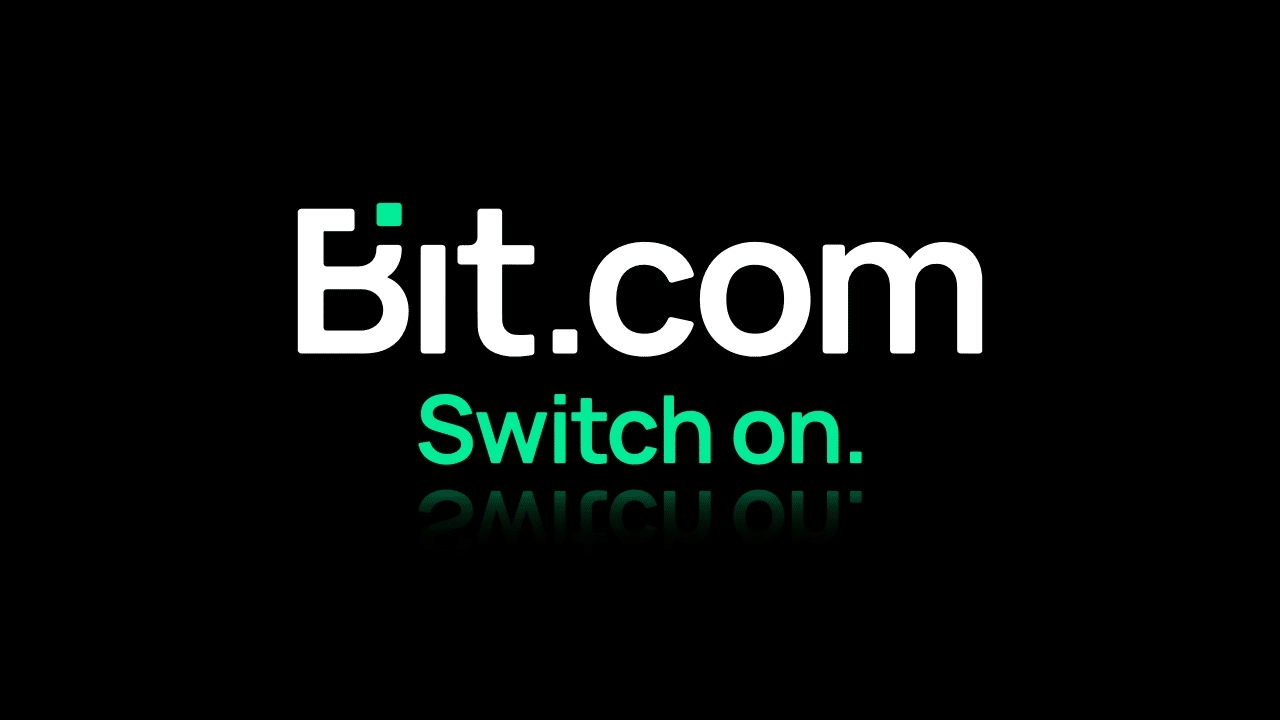 The Crypto.com Exchange is one of the world's largest and most popular exchanges, thanks in large part to the fact that it offers a very broad and diversified collection of cryptocurrencies for customers to trade.
While we will discuss their selection of cryptocurrencies in more detail later, it is important to note that Crypto.com enables users to rapidly trade more than 250 different cryptocurrencies.
Furthermore, a variety of venues, including spot trading markets, futures markets, and a number of advanced order types, are accessible for this trade.
Easy to Use for Beginners
By aiming to include as many trading capabilities and cutting-edge technologies as possible, many of the more well-known cryptocurrency exchanges generally lose out in terms of target audience and client onboarding, with the objective of giving experienced traders everything they would need in one location.
It is important to keep in mind that many people are just getting started with cryptocurrency trading and might not be familiar with all of the sophisticated tools and features because the world of cryptocurrencies is still relatively new and constantly evolving.
Many platforms may thus be intimidating to novice investors. With the Crypto.com exchange, which was developed to make it simple to browse and place orders, this is not the case. On Crypto.com, anybody can quickly sign up and start trading, even if they have never traded before.
The mobile app for Crypto.com, which has a very contemporary and user-friendly design, may be compared in this way.
Low Fees
Exorbitant fees are often charged by many well-known cryptocurrency exchanges, especially as they grow and add more and more assets. This is not the case with Crypto.com, which has trading fees that are comparatively comparable with those of the rest of the market. This is especially true considering the enormous variety of assets that may be traded on Crypto.com.
Users, for instance, can reduce their fees only by purchasing Crypto.com Coin (CRO). The Crypto.com app and exchange have very low prices even without these reductions, which attracts frequent traders quite well.
Strong Security Measures
It is important to note that Crypto.com is one of the most secure cryptocurrency exchanges in the world, as demonstrated by the platform becoming the subject of a hacking attempt. We go into more depth about security in the security section of our review, but it is important to note this now.
A variety of security measures are used by the site to protect its users, their money, and their data. It is understandable that Crypto.com has been the target of several assaults given its massive trading volume and diverse ecosystem, but the platform's security protections are among the best in the market.
Crypto Ecosystem
As previously said, one of the primary reasons why people choose the Crypto.com app over other trading platforms is that it offers a very broad and diversified ecosystem.
Crypto.com Visa Card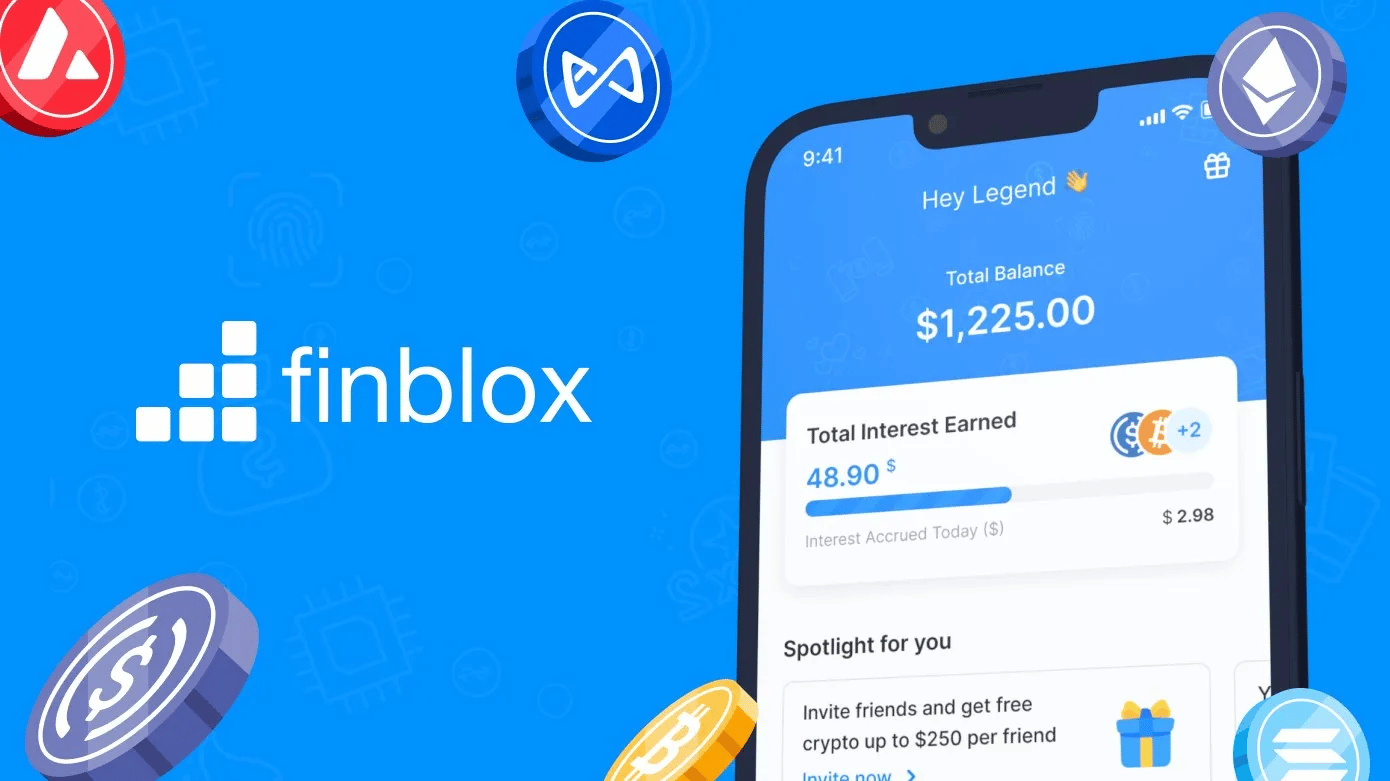 The Crypto.com visa card is one of their hallmark products and one of the nicest aspects of utilising Crypto.com as a platform. The cards are divided into levels that users may select based on their needs and requirements.
With the Crypto.com visa card, each tier offers a unique set of perks and advantages, including up to 8% cashback on daily purchases, larger staking rewards, and the social standing that comes with owning a crypto metal card that enables you to send and receive cryptocurrency payments anywhere in the world.
Passive Income Opportunities
The most well-known passive income options offered by the Crypto.com app, the Crypto.com Earn feature, allow users to earn interest on their dormant bitcoin holdings. This is a form of staking, but it is far more practical, flexible, and easy to do.
Crypto.com also offers a variety of various passive income opportunities through their Earn services.
Crypto.com Review – Cons
The trading platform at Crypto.com is no different; every currency has two sides. The platform has a number of drawbacks, which include:
Inadequate customer service
One of the biggest drawbacks of using the Crypto.com app is their terrible customer service, which users have consistently criticised as being unresponsive or worthless.
When you realise that Crypto.com customer service has been ineffectual even when addressing serious account security issues and difficulties, this becomes even more troublesome.
High Preference for $CRO Holders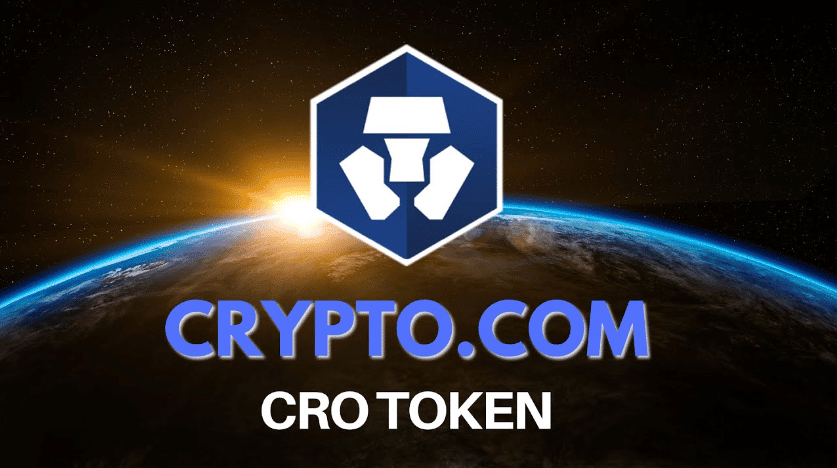 Holding $CRO enables users of the Crypto.com platform to save on trading fees, as we previously covered in our analysis of the exchange. While this is advantageous to the token owners, it might also turn out to be a double-edged sword.
For instance, there have been several claims that the platform's fee structure is heavily biassed in favour of holders of $CRO tokens, making it almost impossible to conduct profitable trading on the platform without them.
This also holds true when dealing with $CRO, since a bigger discount may be imposed than when using stablecoins, fiat money, or other cryptocurrencies.
The payments for other currencies are lesser, and users can only receive higher staking incentives by staking $CRO tokens.
Absence of Educational Material
Since the cryptocurrency industry is still extremely new, many individuals are simply learning about cryptocurrencies and/or trading, as was previously said. One of the most important crypto services provided by any cryptocurrency exchange is the provision of educational data and learning resources that customers can utilise to learn more about the platform and trading in general.
Particularly on Crypto.com, there is a dearth of such educational material, which makes the learning curve associated with trading there steeper and more challenging to handle.
High minimum deposit amounts
When compared to conventional currencies, the cryptocurrency markets are known for their high degree of volatility, thus beginner investors may not want to risk a significant sum of money in them at the start of their trading career.
The minimum deposit required to establish an account and start trading using the Crypto.com app is $500 by bank transfer, which may be beyond of reach for some traders and investors.
The least amount you may withdraw in this situation is $500. The same is true if you try to withdraw money via bank transfer.
Limited in certain countries
Although we said in our assessment of Crypto.com that there are many cryptocurrencies available to trade, this may not be the case everywhere. In many nations, including but not limited to the United States, the Crypto.com exchange service is rather constrained and might not offer all of the features.
Limited Support for Trading Crypto to Crypto
While the Crypto.com Exchange offers a large selection of cryptocurrencies for customers to buy and sell, the App only supports a very small number of crypto-to-crypto exchanges, and in certain countries, it does not even let you swap one cryptocurrency for another.
As a result, the only thing you can do with your bitcoin balance if you utilise the Crypto.com App is exchange it for fiat money. It is necessary to use the Crypto.com Swap to exchange one cryptocurrency for another, which might be an issue if you need to transact quickly.
Crypto.com History
Since its 2016 Hong Kong start, Crypto.com has grown to provide more than 250 cryptocurrencies to more than 10 million consumers worldwide. Research and surveys show that Crypto.com now has customers in over 90 countries and provides a range of bitcoin services as well as other ecosystem-connected features.
The wide variety of cryptocurrencies that can be exchanged on the Crypto.com platform, as well as the long number of features it offers, are two of the main factors contributing to its explosive growth.
In reality, as you will see in our Crypto.com review, if all you want to do is buy and hold your cryptocurrencies, the site is not really the best for you, and you can do much better on other crypto exchanges. Crypto.com has positioned itself in the market as much more than a trading platform.
The trading platform is best suited for individuals who wish to leverage the entire ecosystem of Crypto.com and use it to create a more comprehensive cryptocurrency offering, or for those who wish to make crypto payments instead of simply using fiat currencies to make payments.
Additionally, the platform is suitable for anyone who wants to use cryptocurrencies as a genuine currency and a means of payment rather than just a trading asset.
Crypto.com – Cryptocurrencies Available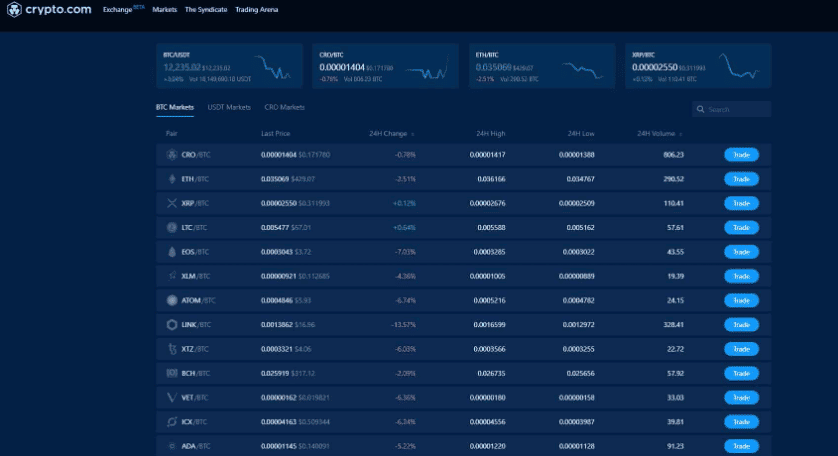 As was already said, customers may buy, sell, and trade more than 250 cryptocurrencies on the Crypto.com Exchange. Additionally, a portion of these currencies are stakeable, enabling owners to earn rewards on their dormant coin.
Some of the most popular assets available for trading on the Crypto.com platform are:
Bitcoin (BTC)

Ethereum (ETH)

Cardano (ADA)

Dogecoin (DOGE)

Polkadot (DOT)
Additionally, the CRO currency, a native token of the Crypto.com platform, is available. Cheaper fees, more staking interests, and a greater proportion of rewards on Crypto.com Credit Card transactions are all benefits for CRO token owners.
Crypto.com Fees
Any trading platform charges two types of fees: trading fees and non-trading fees.
Trading Fees
The fees customers pay to place orders on the platform and have them completed are referred to as trading charges. Most bitcoin exchanges charge fees in the form of commissions or spreads.
Spreads
The spread is the price discrepancy between the ask and the bid. Market-maker trading systems, which serve as the trade's counterparty, typically apply this idea. You are trading in opposition to the platform as a result.
When this happens, the price at which an asset may be acquired and the price at which it may be sold at any one time are usually out of sync. The spread is the difference between the two prices; the purchase price, often known as the bid price, is almost usually greater.
In essence, this means that you would lose money if you simultaneously bought and sold anything.
Commissions
An exchange may charge a flat commission on each deal you make as another sort of trading cost. The costs you will have to pay in this regard will decrease with your trading volume, thus the more you trade, the smaller and more frequent this component of the trading volume is.
Trading Fees on Crypto.com
The commission model accounts for the vast bulk of Crypto.com's pricing structure. Users are required to pay platform fees based on a predetermined percentage of their total trading volume.
If a user does not currently have $CRO tokens and their monthly trading volume is less than $25,000, they will initially be subject to a 0.4% trading fee that will be applied to each trade that they execute. This is only a little bit lower than the average for the industry, but it's only a little bit.
Users have the ability to earn a discount on their trading costs if they own any amount of $CRO tokens. If you have a monthly trading volume of less than $25,000 and possess 5,000 CRO tokens, your fees will be reduced to 0.36%.
Your trading expenses will decrease as your holdings of CRO Tokens increase.
The maker/taker fee scheme that Crypto.com uses is another crucial aspect to take into account when analysing its expenses. It signifies as follows:
Maker orders come at a cheaper fee and provide liquidity to the market. As a creator, you might only pay 0.04% of each trade.
Taker orders are those that reduce market liquidity and are subject to higher fees. The lowest fees a taker may incur each deal are 0.1%.
Non-Trading Fees
In addition to the trading cost, bitcoin platforms may levy a range of extra fees and levies. These are covered in further depth below.
Deposit Fees
The majority of bitcoin exchanges charge users to deposit money into their accounts. Whether you deposit money in fiat money or cryptocurrency, there are no costs associated with doing so on Crypto.com. The network fees associated with your deposit are the only costs you'll have to cover.
Fees for Withdrawals
The majority of cryptocurrency exchanges implement withdrawal fees, which are analogous to the costs imposed on deposits. When you take money out of your Crypto.com account, you may be subject to withdrawal fees. The amount of these costs is dependent on the mode of withdrawal you select.
For instance, withdrawals to cryptocurrency wallets are free less the gas you pay for the transmission. Both the network you utilise and the cash you withdraw have a significant impact on this.
On the other hand, there are expenses associated with withdrawals when you make a bank transfer of funds. There is a $25 fee and a $500 minimum withdrawal limit in this scenario.
Crypto.com Ecosystem
The Crypto.com ecosystem is comprised of various distinct features and components, which are detailed below.
Crypto.com Spending Cryptocurrency
With the Crypto.com Credit Visa Card, you may spend cryptocurrency whenever you want. The card may be used at a broad variety of stores worldwide because it was developed in partnership with Visa.
You will also get cash back if you make a purchase with the Crypto.com Visa card. Depending on the type of card you use, this cashback might range from 2% to 8%.
As a consequence, the credit card is a more effective way to use your fiat money since it enables you to spend your Bitcoin right away without having to go through the withdrawal process.
Crypto Earn
The Crypto.com Earn function gives users the opportunity to earn interest on their idle cryptocurrency holdings in a manner that is analogous to how interest is earned on deposits placed into a bank account. Users can deposit their idle cryptocurrency holdings by using the "Crypto.com Earn" button.
When you deposit standard cryptocurrencies, you have the potential to earn up to 7% interest, but when you deposit stablecoins, you have the potential to earn up to 14% interest. This interest is computed on a weekly basis and transferred into your trading account, providing you with additional flexibility in the manner in which you can generate passive income from your cryptocurrency holdings.
Credit for Crypto.com
Customers can get loans in fiat money through Crypto.com Credit.
The loan-to-value ratio (LTV) for these types of loans can reach up to fifty percent, depending on a variety of different circumstances. In light of this information, it appears that you can utilise Crypto.com to borrow up to fifty percent of the money you select to use as collateral.
NFT on Crypto.com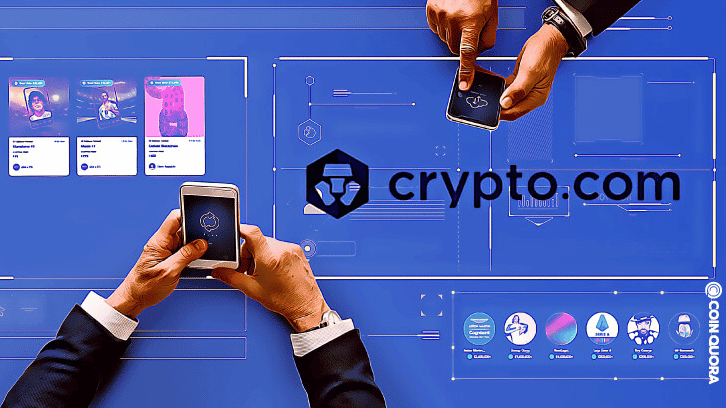 By registering for the Crypto.com NFT platform, users of the Crypto.com platform will have access to NFT collections that have been curated and produced by A-list musicians, artists, and enterprises.
Users are able to buy NFTS on this website using their credit or debit card and subsequently sell them on the marketplace. The starting bid for these NFTs is $0.
Crypto.com Syndicate
Users of the Crypto.com Exchange have access to the Syndicate and may purchase cryptocurrencies when they become available at great discounts.
Users may buy cryptocurrencies like BTC, DOT, and ZIL for up to 50% less, for instance.
Crypto.com Price
Users of the Crypto.com website may simply and rapidly track the values of all significant cryptocurrencies using the Prices tab.
This page displays the tokens' most recent price, market capitalization, and recent token price changes. Additionally, users may learn more about the token.
Crypto.com Security
To make users and their wallets as secure as possible when trading on the site, Crypto.com takes a variety of security precautions.
The Crypto.com platform, for instance, uses multi-factor authentication as a security measure to make sure that no one else can access a user's account without physically gaining access to that user's device.
Crypto.com uses a variety of compliance methods to thwart fraud. As is customary in the sector, they retain the majority of their deposits offshore to guard against hackers and financial losses from cyberattacks.
Crypto.com – Signing Up
As previously said, the procedure of registering for a trading account on Crypto.com is actually fairly simple, as shown below.
Step 1: Sign Up for Crypto.com
Simply visit the Crypto.com website and click the sign-up button to get started. You'll be asked to provide your information at this stage, which includes your name, email address, and contact details. Additionally, you'll need to come up with a password for your account.
Step 2: Deposit Funds
Making a deposit into your account is the next action. This is only feasible once you have verified your account and finished the KYC process, which calls for you to present identity and residency verification. Both fiat money and cryptocurrency can be used to contribute funds.
Step 3: Begin Trading
Your final task is to get started trading right now. After you have added funds to your account, proceed to the Crypto.com App Marketplace. Here all you need to do is search for the cryptocurrency pair you wish to trade, input the necessary amount, and then click either Buy or Sell. The order will be carried out in a short amount of time.
Crypto.com Review – Final Verdict
For traders who want to do more than just purchase and store cryptocurrencies, Crypto.com is a fantastic alternative. Thanks to its vast offers and the Crypto.com ecosystem, it enables users to access a variety of bitcoin services at moderate costs.
The platform is perfect for people who are familiar with the bitcoin industry and wish to expand their knowledge.