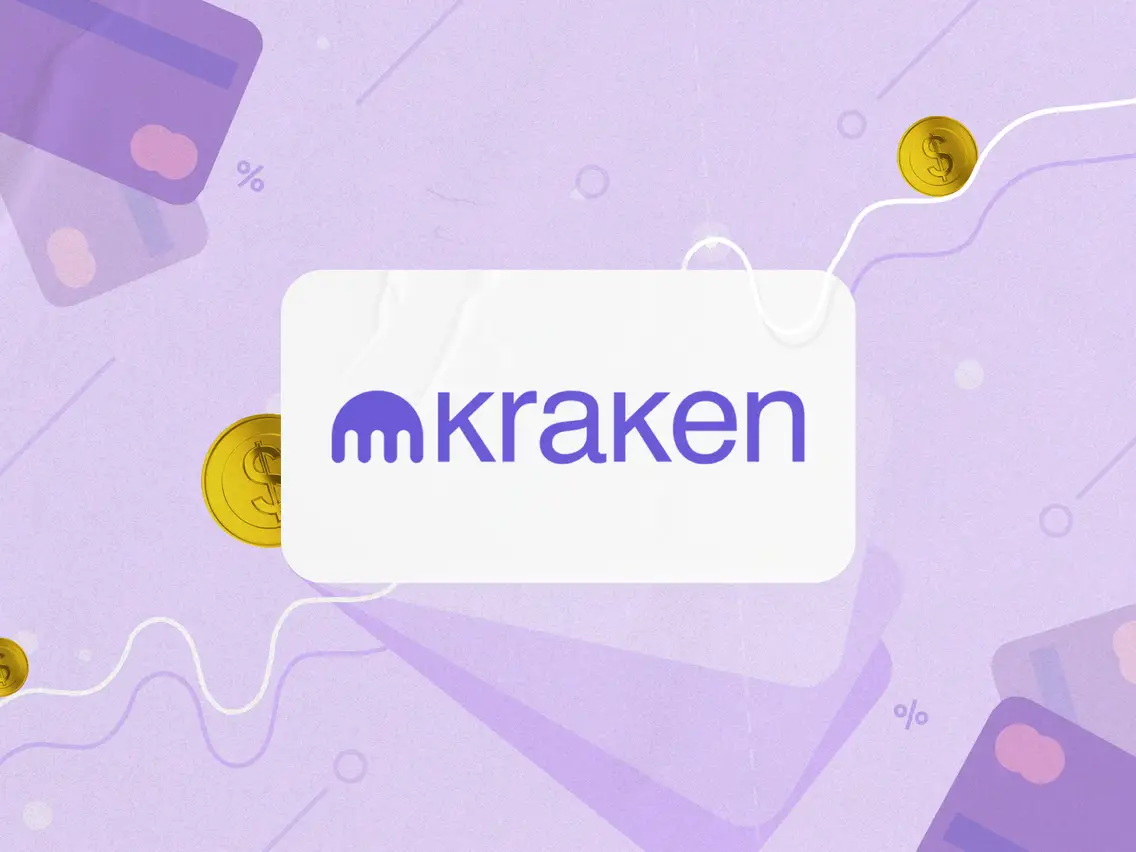 Kraken Review 2022: Pros, Cons and Features
Overview
Traders in the United States have access to a diverse range of choices for the purchase and sale of cryptocurrencies such as Bitcoin and alternative cryptocurrencies. However, this is not the case for American traders.
Kraken provides a helpful option for consumers in this situation, allowing them to purchase crypto assets in Euros rather than having to go through the process of currency conversion, which can be time-consuming and expensive. In this study, we investigate Kraken as a broker and try to determine the different kinds of investors who would benefit most from using it.
What is Kraken?
Kraken is one of the cryptocurrency trading exchanges that has been operating for the longest period of time in the globe, since it has been doing business since 2011. Over the course of these last few years, it has established a reputation for itself as being one of the very few cryptocurrency exchanges that enables users to trade more than 120 cryptocurrencies utilising a wide range of fiat currencies. This has helped it stand out from the competition.
In addition, the platform supports a broad range of services, such as staking, margin trading, and futures trading, all of which are available to users.
Kraken is well-known not just for its cheap fees, which will be covered in this review, but also for the convenience of use connected with the platform and the high degree of security measures that are linked with the platform. These three aspects have contributed to Kraken's success.
Kraken Review – Pros
The Kraken trading platform has several pros associated with it, which include:
Strong Security Measures
One of the reasons why Kraken is so well-liked, as we discussed earlier on in the introduction to this analysis, is that it has such strong precautions in place against potential threats.
The bitcoin exchange Kraken has never had a security system breach, and no successful hacks or cyber-attacks have ever been launched against it. Although they will be covered later in this study, it is crucial to emphasise right away that Kraken's security measures have never been violated.
Because of this, it is a far more appealing choice than the majority of other cryptocurrency exchanges, which are routinely attacked by hackers.
Low Fees
When it comes to the buying and selling of cryptocurrencies, the market is now served by a number of different exchanges, and daily, brand-new exchanges are being launched.
This indicates that in order to differentiate themselves from the competition and position themselves as one of the top and more appealing exchanges to investors and traders, crypto exchanges typically provide extremely cheap fees for trading in order to attract customers.
Kraken is one such platform. Their pricing structure will be covered in greater depth later on in the study; nevertheless, their fees begin at a meagre 0.16% for maker transactions and 0.26% for taker transactions. This is a significant discount compared to the majority of other companies operating at the same level.
High Liquidity
As was noted before, the Kraken cryptocurrency exchange has been operating continuously since 2011, making it one of the oldest cryptocurrency exchanges in the world.
One advantage of this is that the platform has a very high degree of liquidity, which is largely because many traders first began trading through the Kraken platform when they entered the cryptocurrency trading market. This is one of the key causes of the platform's extremely high degree of liquidity.
Because of this, the Kraken platform has a very high degree of both liquidity and trading volume, which makes it much simpler for traders and investors to get their orders completed at competitive prices anytime they want to do so.
Trading Fiat-to-Crypto
As was just said, one of the many benefits of Kraken is that it gives customers the ability to exchange cryptocurrencies for a wide variety of fiat currencies. This was covered before. This offers a broad variety of benefits to those who take use of it.
To begin with, international customers who do not use USD as their base currency may utilise the platform with ease in their own currency, which lowers the amount of foreign exchange costs that they would otherwise be compelled to pay through the site. If they had chosen the US dollar as their base currency, then these costs would have been incurred.
Additionally, this shows that customers may utilise the site to transfer their bitcoin holdings to their bank accounts in the form of fiat money. Users may pick the currency they want to withdraw their bitcoin holdings in thanks to Kraken's support for withdrawals in a variety of different currencies.
Last but not least, the fact that Kraken supports a wide variety of fiat currencies enables users to trade forex pairings and currency pairs as well, so expanding the selection of items that can be traded using the Kraken platform.
Mobile Apps
Traders can monitor their investments while they are on the go with the Kraken app, which is accessible for both Android and iOS smartphones. This makes the app one of the most valuable tools for traders.
Because of the high degree of volatility that characterises the cryptocurrency markets, it may be quite helpful to have the ability to trade even when you are not using your laptop. This is especially true for more experienced traders.
Live Chat Support
The fact that most cryptocurrency exchanges do not have good customer service teams is one of the more common concerns among users who regularly trade through cryptocurrency exchanges. This lack of good customer service teams makes it very difficult to get questions answered or problems solved by the cryptocurrency exchange.
In this respect, the Kraken exchange distinguishes out from its competitors since it offers its customers a Live Chat support service that is available around the clock and can answer the vast majority of their fundamental questions. As a result, Kraken makes trading more comfortable for its customers.
Kraken Review – Cons
The Kraken trading platform is not an exception to the rule that every coin has two sides. The platform has a number of drawbacks, which include:
No Credit or Debit Card Deposits
Users of the Kraken platform are unable to use credit or debit cards to finance their trading accounts, which is one of the most significant drawbacks connected with this digital asset exchange platform.
Because of this, adding funds to your Kraken trading account must be done through more time-consuming ways such as bank transfers. This makes adding funds to your Kraken trading account rather cumbersome.
No Phone Support
We have already said that one of the benefits of utilising Kraken is that they offer 24/7 live chat assistance; here is one of the other perks. Traders, on the other hand, will need to rely on the phone help that is provided by the platform in order to get assistance with more complex problems because the chat support can only handle difficulties that are relatively straightforward.
The fact that the phone assistance is only available for a short period of time throughout the day is quite inconvenient when taking into account the fact that the Kraken exchange serves customers from all over the world, some of whom may be trading at various times of the day.
As a result, the Kraken phone assistance may not always be available, which causes difficulties and delays in the resolution of the most significant issues faced by traders. Due to the fact that Kraken is a bitcoin exchange, traders face these problems.
Long Verification Times
The fact that verifications on the platform might take a significant amount of time is one of the most frequent issues that users of the platform bring up as a source of frustration. Traders may find this to be rather aggravating, particularly when taking into consideration the fact that the vast majority of alternative cryptocurrency exchanges provide fast verifications.
In addition, due to the fact that Kraken customers are required to go through a verification procedure as well as the KYC process, this exchange might not be the best choice for traders who are trying to conduct their business in an anonymous and confidential manner.
No Wallet Service
One of the drawbacks of utilising the platform is that it does not have its own cryptocurrency wallet service, which might be problematic for consumers. This is another downside of using the platform.
If you want to utilise a cryptocurrency wallet while trading on the platform, you will have to link an external wallet to the exchange in order to do so. This is required in order to use a wallet.
Kraken's lack of its own in-house wallets is a significant drawback to the company's ability to compete with other big exchanges, such as Coinbase and Binance. As a result, Kraken's competitors appear to be far more appealing alternatives.
Limited Offerings in Some Countries
Earlier on in this analysis, we highlighted that Kraken is a worldwide cryptocurrency trading platform that makes its services available to consumers in a number of different nations. Nevertheless, not all nations are provided with the same service.
In a number of different nations, the scope of Kraken's service offers is currently somewhat restricted. For users in the United States, for instance, the futures trading platform offered by Kraken is not accessible via the company's mobile app.
Users in other regions of the world may not have access to the full range of Kraken's services, which results in the same kinds of problems as those seen in other parts of the world.
Limited Starter Account
Using the Kraken platform comes with a number of drawbacks, one of which is that the stater account that they provide has very little features available to use. Therefore, if you simply opt to sign up for the beginner account, you will not be able to access a range of important services since such features are only available to those who have upgraded their accounts.
For instance, beginner accounts are not permitted to trade on leverage or access some futures markets that are made available by the platform.
Additionally, the costs incurred by utilising a Starter account to use the Instant Buy platform, which enables you to exchange your cash for cryptocurrencies immediately in exchange for fiat currencies, would be rather significant. This is so that you may purchase cryptocurrencies immediately for the coin equivalent of fiat money via the Instant Buy platform.
The costs that are linked with the Kraken exchange are covered much further on in the article, but the fact that the Instant Buy platform has higher fees in comparison to the other services that Kraken provides is enough to turn off some traders from using the platform.
Kraken Cryptocurrencies Available
As we have mentioned in the past, Kraken is one of the oldest and largest cryptocurrency exchanges in the world. It owes a significant portion of its fame to the fact that it enables users to trade a very broad range of cryptocurrencies, which is one of the main reasons why it is so popular.
For instance, Kraken clients now have access to over 120 different cryptocurrencies, and this number does not even include all of the fiat and stablecoins that can be exchanged on the site.
Additionally, Kraken often adds new cryptocurrencies to its platform. As a result, when coins achieve a certain level of notoriety, they are added to the Kraken Exchange and made available for trading after being listed there.
The following are some of the most important cryptocurrencies that may be traded with Kraken at the moment:
Bitcoin (BTC)
Bitcoin Cash
Ethereum (ETH)
Cardano (ADA)
Dogecoin (DOGE)
Litecoin (LTC)
Polkadot (DOT)
Polygon (MATIC)
Ripple (XRP)
Stellar Lumens (XLM)
Solana (SOL)
Sushi (SUSHI)
Uniswap (UNI)
Additionally, users may utilise the website to convert their cryptocurrencies for stablecoins like Dai, the USD Coin, and Tether (USDT) (DAI).
Users also have the option of changing their cryptocurrency holdings into a fiat currency such as the Canadian dollar, Japanese yen, Euros, or any one of a number of other currencies that are functionally equivalent. This may be done through trading pairs.
Kraken Review – Fees
There are two primary categories of costs that are often assessed to customers of a trading platform, and these are known as trading fees and non-trading fees. The following provides a concise description of each of these different sorts of fees, as well as the cost structure that is utilised by Kraken.
Trading Fees
The term "trading fees" refers to any expenses incurred when using a platform's primary services, in this case, the buying and selling of digital assets and cryptocurrencies. These costs may apply to several distinct kinds of fees. The great majority of bitcoin exchanges either charge commissions or spreads as a means of collecting transaction costs. Spreads are a more popular approach.
Spreads are defined as the difference in price that exists between a bid price and an ask price. This concept is predominantly utilised by market-maker trading platforms, who take on the role of the trade's counterparty in order to facilitate the transaction. Because of this, it might be said that you are trading against the platform itself.
When this occurs, there is typically a disparity between the price at which you can acquire the asset and the price at which it can be sold at any given moment. This is because the price at which you can buy the asset affects how quickly it can be sold. The spread is the difference between the asking price and the purchasing price, which is often referred to as the bid price. The buying price is nearly always greater than the asking price. If you were to buy and sell an asset at the same time, it would actually result in a loss for you.
A flat commission will be applied to each and every deal that you execute, which is the other type of trading cost that an exchange may charge you for. This is often a relatively tiny proportion of the trading volume and is calculated in a manner that decreases over time. This means that the bigger your trading volume, the lower the fees that you will be required to pay in this respect.
Kraken Standard Fee Structure
Users may anticipate paying a specific proportion of the value of their trades as fees while using Kraken, since the fee structure of this cryptocurrency exchange is a hybrid of the commission and spread-based models.
The cost that Kraken charges for quick purchases is around 1.5% for the majority of cryptocurrencies. However, the fee drops to 0.9% if you opt to buy stablecoins through the site.
Kraken Pro Fee Strcuture
If you are a frequent trader, the fees that you are charged will be determined by the total volume of trades that you have made in the preceding month. In addition to this, the outcome of this question will also be determined by whether you are a market maker or a market taker.
A deal that increases the amount of available funds on the market is referred to as a maker trade, whereas a trade that decreases the amount of available funds on the market is referred to as a taker trade.
Below is a table that illustrates how the costs connected with using the platform change according to the degree of trading volume that is being conducted.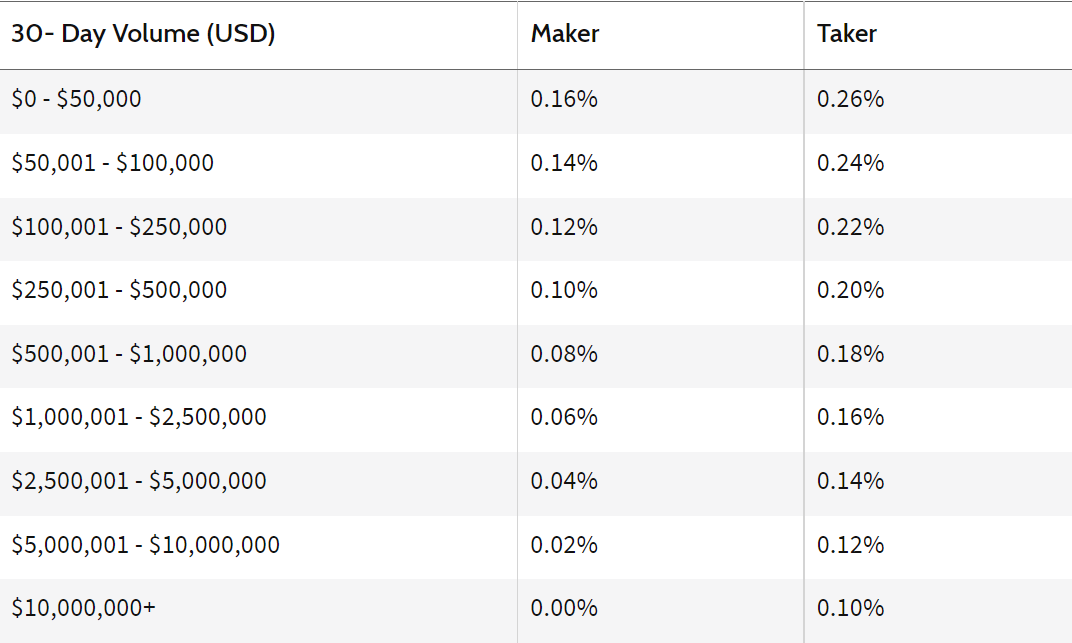 Non-Trading Fee
In addition to the trading fee, cryptocurrency platforms will typically also charge a wide variety of other incidental fees and charges. These fees and charges are not directly related to the trading activity that takes place on the platform and are therefore considered to be incidental. These have been covered in depth below.
Deposit Fees
In order for consumers to be able to deposit money into their accounts, the majority of cryptocurrency exchanges need users to pay a fee. When it comes to Kraken, the costs associated with deposits are determined by the specific method that you employ to add funds to the site.
If you opt to deposit cash through your bank account, for instance, you won't be subject to any costs at all because this method of depositing funds is completely free.
If you currently have cryptocurrency money stored on another platform and desire to simply transfer these monies into Kraken accounts, then you could be required to pay a charge depending on what coin you choose to deposit.
For instance, LINK charges a 0.6 price to establish up a LINK address and a 0.6 fee to deposit LINK, but GNO does not charge a fee to deposit but does charge a 0.07 fee for the GNO wallet.
Withdrawal Fees
If you want to take money out of the platform, the majority of cryptocurrency exchanges will charge you fees when you do so. These costs are comparable to the deposit fees. When you want to take money out of your Kraken account, there are fees involved with the process. These fees vary based on the mode of withdrawal that you pick.
For instance, utilising the EUR SEPA to withdraw money would only cost you EUR 0.09, however using SWIFT to withdraw money in USD would cost you $5 per transaction.
Because of this, the fees that you incur to withdraw money might be very different depending not just on the method that you use but also on the currency that you use.
Kraken Review – Platform Features
Kraken Pro
Kraken Pro, one of the most popular services offered in connection with the Kraken exchange, is designed primarily for more experienced traders who prefer to make use of the whole collection of options and tools that are made available for studying digital assets via the platform.
Any trader who uses the Kraken app has access to the Kraken Pro trading platform, which has reduced costs that are proportional to the user's overall trading volume. In addition, it provides a large number of tools that may be utilised in order to improve one's trading judgments and make them more informed.
Kraken Dark Pool
Kraken provides its customers with the benefit of a dark pool, which they may access in order to engage in anonymous trading. This is one of the many advantages that Kraken provides.
Because the dark pool has an unseen order book that enables users to trade without having to divulge their interests to other traders, this becomes an appealing choice for more delicate trading. As a result, this becomes an attractive alternative for more sensitive trades.
It is important to note, however, that the costs charged by Kraken for dark pool trades are greater.
Kraken OTC Service
Kraken also provides a service known as OTC, which merchants may use in order to make orders for bigger quantities. The site also provides a plethora of assistance services in this respect, which enables customers to make huge purchases in a careful manner while at the same time obtaining the best possible prices for such orders.
The Over-the-Counter (OTC) platform that Kraken provides assistance for is best suited for traders who want to place orders worth more than $100,000, which might potentially disrupt the market. As a result, they have the option of placing orders of this kind through the OTC platform in order to get a confidential settlement.
Because you are an OTC customer on the platform, you will receive personalised guidance from an adviser on the Kraken platform on the optimal way to arrange your trades so that they give you with the most possible benefit.
Every fiat currency and cryptocurrency that may be traded on Kraken is backed by the OTC desk, which provides continuous worldwide coverage around the clock with the exception of significant holidays
Kraken Review – Safety
As was indicated before, Kraken places a high priority on the safety of its platform. As a result, there has only been one instance of the platform being taken offline since it was launched in 2011; this occurrence took place in 2028 so that critical system improvements could be implemented.
In order to maintain a high level of compliance and safety, Kraken implements a number of different security procedures, including the following:
It ensures that the platform and any of the wallets cannot be hijacked by any online users by immediately transferring any new deposits that are made into the platform onto cold wallets that are held offline.
It also maintains the vast majority of the currencies on the network in cold wallets, which ensures that they are impervious to cyberattacks and hacks. This is done to protect the money from being stolen. On the Kraken platform, the only assets that are stored in online wallets are those that are absolutely necessary for maintaining a high degree of liquidity.
It is impossible for anybody outside the company to access any of the data that is saved on the platform since all of the data is maintained in an encrypted state and is only accessible to those who have access to several security centres and devices all at once.
Additionally, multi-factor authentication and two-factor authentication are utilised on the platform in order to increase the level of protection afforded to user accounts and to ensure that no unauthorised parties are able to get access to the associated cash.
Kraken Review – Final Verdict
When taken as a whole, the price structure and features connected to the Kraken cryptocurrency exchange combine to make it a very attractive platform through which new traders may get their feet wet. It supports many different cryptocurrencies, offers an easy method for converting fiat currency to cryptocurrency, margin trading platforms, and futures trading platforms. Additionally, it has a very high degree of security and complies with all applicable laws.
Users have also reported that if they do not use Kraken Pro, they may be subject to higher fees. Despite this, the platform does have a few problems with its customer service. Users who wish to make use of the platform are obligated to be aware of all of the dangers that are connected to it.
Latest News