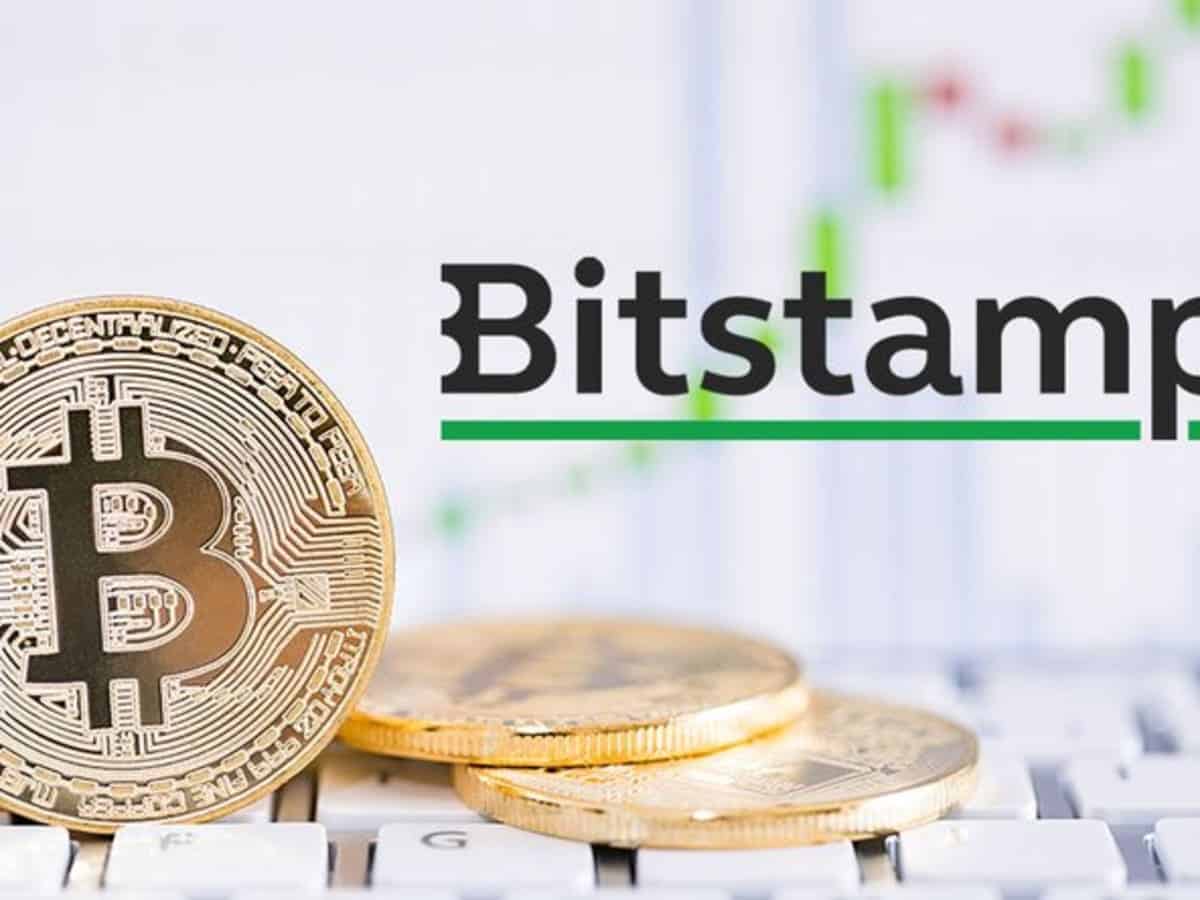 Bitstamp Review 2022: Most Secure and Fastest Exchange
Overview
When it comes to trading cryptocurrencies and crypto assets, one of the most common mistakes that most traders do is that they do not select the appropriate trading platform that is able to meet all of their requirements in the most efficient manner. When deciding which cryptocurrency exchange is best for you, it is important to take into account the types of currencies you want to trade, the number of times you want to trade, and the amount of trading knowledge you currently possess.
Bitstamp is both an established and widely used cryptocurrency exchange, making it a good candidate for consideration as you search for the platform that best meets your needs. In this Bitstamp analysis, we examine the exchange and determine the kind of investors who would benefit most from using it.
What is Bitstamp?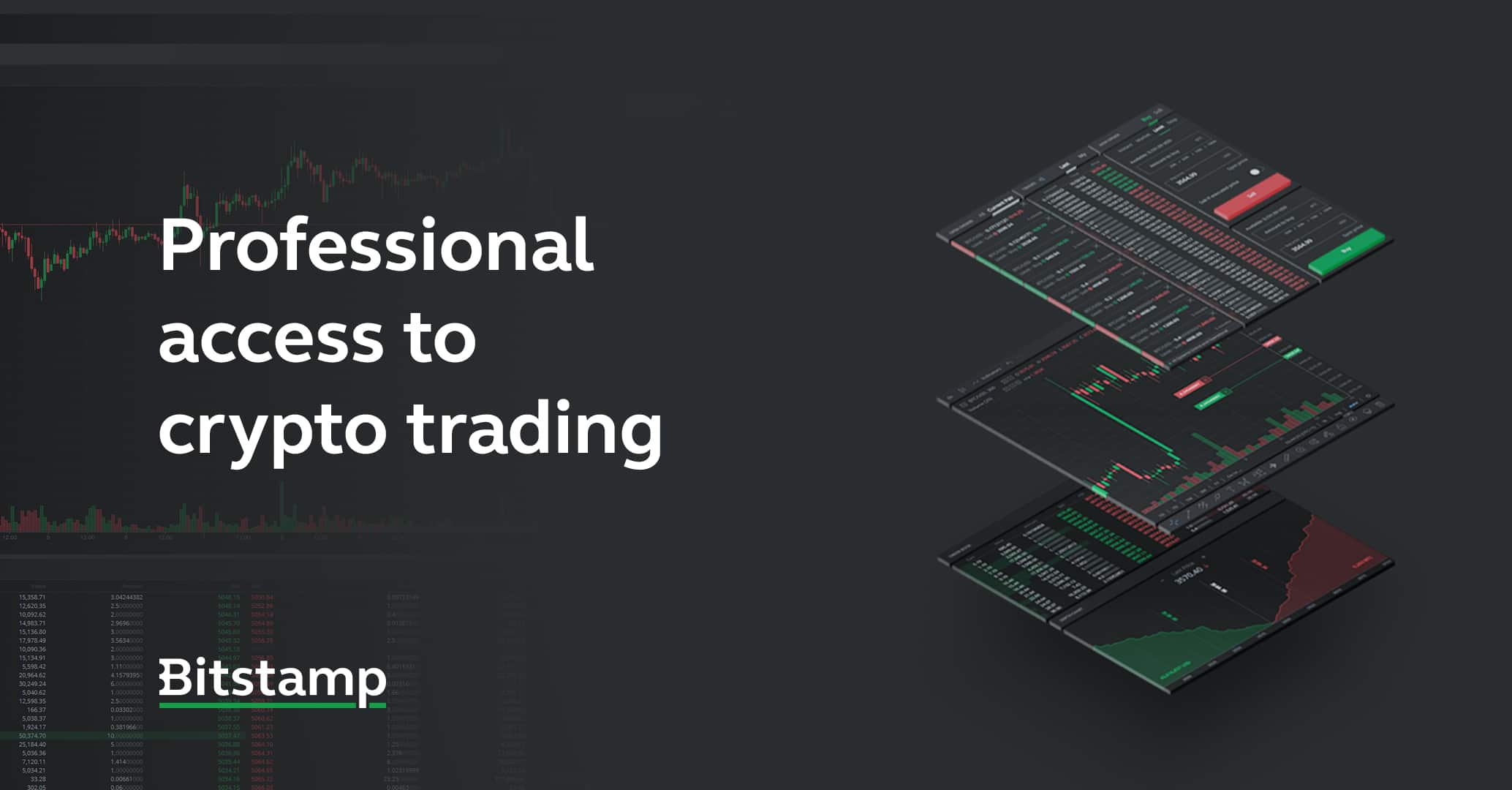 Bitstamp is one of the oldest and most prominent cryptocurrency exchanges in the world, and it is registered in the microstate of Luxembourg in Europe. Luxembourg is a very small country. Nevertheless, the United Kingdom is where its headquarters are located.
The trading platform has been developed in such a manner that it can meet the needs of both inexperienced and seasoned investors, and this is something that will be covered in greater depth during the course of the review.
Users are given the ability to purchase and sell cryptocurrencies on the Bitstamp Exchange. These cryptocurrencies include Bitcoin (BTC), Bitcoin Cash, Ripple (XRP), Ethereum (ETH), and Litecoin (LTC). Not only are these cryptocurrencies tradable with one another, but also with fiat currencies such as the US Dollar, the Euro, and the British Pound.
The Bitstamp platform allows users to deposit and withdraw funds using a wide number of ways, including bank transfers, credit cards, and debit cards.
Bitstamp Review – Pros
The cryptocurrency trading platform known as Bitstamp comes with a number of benefits, some of which are as follows:
Supports Credit or Debit Card Purchases
The fact that the platform allows users to make deposits and withdrawals using credit and debit cards is among the most significant benefits connected with using the platform.
This offers Bitstamp an edge over other exchanges that might not offer the same facilities since it makes it more simple for consumers to acquire crypto assets using various means of payment. Additionally, this gives Bitstamp an advantage over other exchanges.
Even while the exchange applies fees to deposits and withdrawals carried out with a credit or debit card, the simple fact that these payment methods are even a possibility makes it a crypto exchange that is far more appealing than a number of other platforms.
The fact that users may add dollars to their accounts using credit and debit cards also means that the process of depositing funds is virtually rapid, which adds to the allure of the platform. When using other platforms, the process of adding funds might sometimes take several days to complete because such sites only offer bank transactions and wire transfers.
Competitive Trading Fees
Another benefit of utilising the Bitstamp platform is that it offers extremely low trading costs in comparison to other platforms.
It is important to note that Bitstamp uses a commission-based fee structure, which means that users are charged fees based on the volume of trades they conduct on the platform. A more in-depth discussion of these fees will be provided later in the section of this Bitstamp review that is devoted to fees.
The platform is appealing to seasoned traders and investors who could make a lot of trades and seek to use a platform that would reward them for their large trading volume in the form of cheaper trading fees because these commissions are significantly lower than the industry norms. This guarantees that the platform will appeal to seasoned traders and investors who may execute several deals.
Regulated Exchange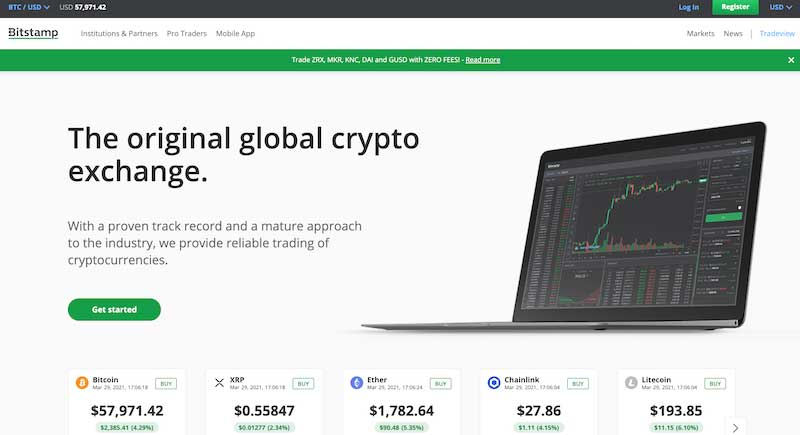 The fact that the Bitstamp exchange is completely regulated and registered in the European Union is another benefit it possesses. This status places it among the safest platforms available for consumers to trade and store their crypto assets in.
Regulated exchanges are relatively unusual for an asset class that is as volatile as the market for cryptocurrencies. This is because the majority of cryptocurrency exchanges are still expanding and are not situated in a single jurisdiction.
Bitstamp, on the other hand, distinguishes out from the competition in this regard, and the fact that it complies with applicable regulations can reassure investors that their money is being stored in a secure location.
When we talk about the precautions that have been taken to ensure the security of the Bitstamp platform, one of the topics that we will cover in depth is the rules that surround Bitstamp.
Available Worldwide
One of the pillars on which the world of cryptocurrencies and blockchains has been built is accessibility, which allows users of crypto assets to transact with anybody, wherever in the world.
However, a large portion of the most prominent cryptocurrency exchanges are frequently not especially accessible to customers situated in most of the world owing to regulations that ban them from operating in some nations throughout the world.
Another benefit of utilising the Bitstamp platform is that anybody in the globe may use it and trade any of the existing cryptocurrency options because of the business's regulatory compliance with EU regulators. This is a benefit of utilising the Bitstamp platform, in my opinion.
However, it is essential to keep in mind that users may not be able to add cash to their accounts in some nations by utilising bank transfers and/or credit and debit cards. This is something that must be taken into consideration. Users will only have the option of depositing their cryptocurrency holdings if they are located in one of these countries.
Good Customer Support
The platform provides highly active and helpful customer support services that are accessible at any time of the day or night, which is another significant advantage connected with using the platform.
The customer service options available on the platform may be broken down into the following categories:
Users can make their initial contact with the Exchange by clicking on the "live chat" button, which is able to assist with the resolution of the majority of the more typical and fundamental questions. This feature is accessible at any time, day or night.

If the user's problem is somewhat more sophisticated than what the live chat services are able to manage, then they may contact the phone support hotline that the platform provides in order to get it fixed. This is also available around the clock, guaranteeing that any questions or concerns raised by users may be answered immediately.

Email assistance is also offered, and Bitstamp boasts extremely good return times in this aspect as well. Email help may be used for more difficult questions.
A highly comprehensive Frequently Asked Questions page is available to users of the site, allowing them to get answers to the vast majority of their fundamental questions.
Charting Tools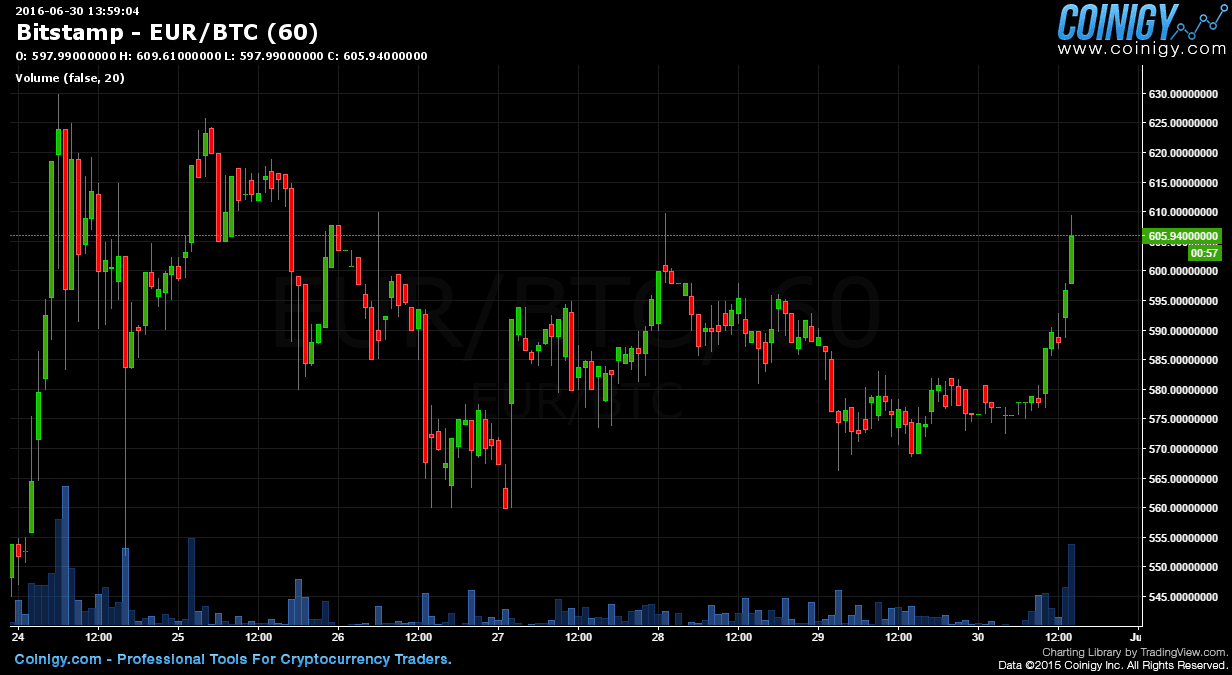 As was noted previously, the trading platform offers a wide selection of instruments and functions, which render it appropriate for both novice and experienced market participants.
The platform provides traders with a variety of trading tools, one of the most important of which is its charting capabilities, which are quite comprehensive and allow a trader to do an analysis of a particular chart in nearly any way they like.
This not only guarantees that skilled traders are able to make better educated judgments regarding their transactions, but it is also a big reason why traders would choose to trade with the platform in the first place.
Staking rewards
The vast majority of crypto traders do not always participate in market activity, and the vast majority of them frequently opt to keep their crypto assets even during times of market volatility.
For these types of traders, it may be beneficial to trade cryptocurrencies through an exchange that enables them to make a passive income by "staking" their unused bitcoin holdings in order to earn the money. Nevertheless, the vast majority of bitcoin exchanges do not provide this choice.
However, Bitstamp does. The process of staking involves depositing some of your cryptocurrency in order to receive incentives in return for doing so. Bitstamp provides staking services that enable you to stake your cryptocurrency holdings in a straightforward manner.
The staking rewards that you receive while utilising staking through Bitstamp will be deposited to your account, but there will be a 15% charge deducted from them. This is in keeping with the norms that are typically followed in the industry. In exchange for offering a streamlined method via which you can stake your assets, Bitstamp levies the fees described above.
At the moment, customers who have a Bitstamp account with cryptocurrencies such as Ethereum and Algorand can participate in staking chances if they so want.
Bitstamp Review – Cons
The Bitstamp trading platform is much like any other coin in that it has both positive and negative aspects. The following are some of the problems that might be encountered when using the platform:
Small Range of Cryptocurrencies
It is true that the Bitstamp app has a lot of benefits that make it a popular trading platform, but it also has a number of drawbacks, the bulk of which are related to the fact that you can only trade a very small number of cryptocurrencies on the site. The Bitstamp app does have a number of benefits that make it a popular trading platform, but there are some drawbacks as well.
It is crucial to remember that the limited selection of main currencies makes the exchange undesirable for consumers wishing to trade alternative cryptocurrencies. Later on in this review, we will go into more depth about the coins that you may trade through the cryptocurrency exchange.
Long Verification Process
Trading on the Bitstamp platform entails a lengthy verification procedure in which users are required to authenticate both their identity and their address. This is due to the fact that Bitstamp is an honest and reliable exchange.
However, the issue rests in the fact that Bitstamp is renowned for requesting a great deal more personal information from users than the vast majority of other platforms do as part of the approval process. This is the source of the problem.
One of the most alluring features of the cryptocurrency industry is that users may trade anonymously without having to divulge a lot of personal information online. However, the invasive verification procedure that is connected to creating a Bitstamp account goes against this, which lowers the platform's degree of allureability.
No Shorting Available
Going long and going short are the two primary types of transactions that traders often engage in while conducting business on cryptocurrency exchanges. When traders are bullish on an asset and anticipate that prices will rise, they will engage in long positions. When traders are bearish on an asset and anticipate that prices will fall, they will engage in short positions.
When utilising the Bitstamp internet platform or the Bitstamp mobile app, customers cannot short bitcoin assets, in contrast to other exchanges. This is bad because a wide range of trading strategies include shorting assets. As a result, Bitstamp's appeal as a cutting-edge trading platform wanes a little.
No maker-taker commission structure
In spite of the fact that we will go over this in greater depth when we analyse the structure of the fees that Bitstamp charges, it is essential that we bring it up now.
A maker-taker fee structure is utilised by the majority of the world's other major exchanges, and this entails the practise of charging higher costs to traders who do not contribute to the market's liquidity. On the other side, traders that remove liquidity from the market are typically subject to paying larger costs than other participants.
Users receive an incentive as a result of this to engage in transactions that increase the market's liquidity. However, Bitstamp does not feature a maker-taker fee structure, which is something that many expert traders look for in a cryptocurrency exchange.
Therefore, regardless of whether you are a taker or a maker of transactions, Bitstamp will charge you the same amount of money for each transaction.
Bitstamp – Cryptocurrencies Available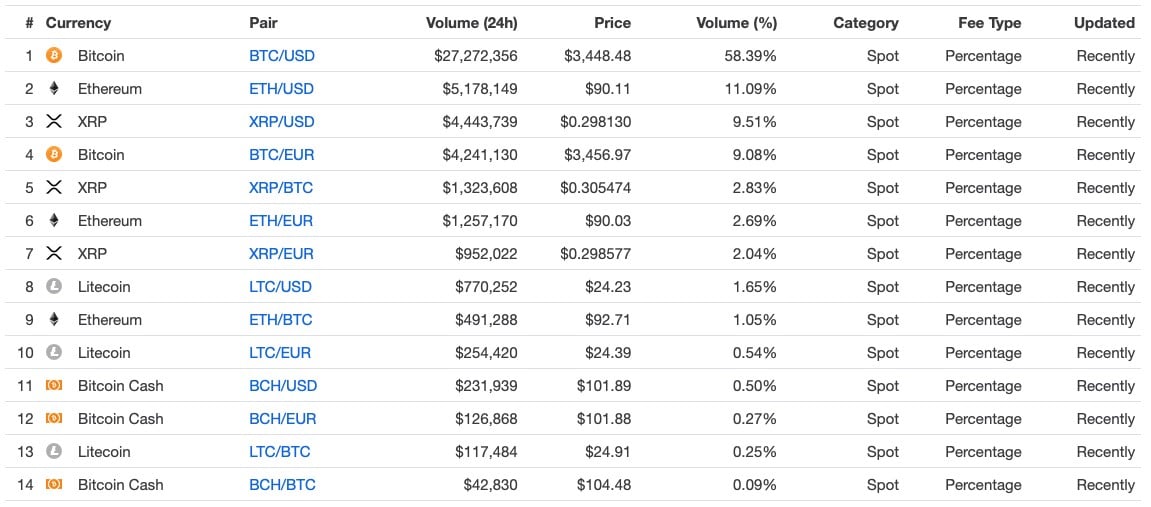 In the past, we have highlighted that despite the fact that Bitstamp provides customers with access to a range of cryptocurrencies, this access is relatively limited in comparison to that which is provided by some of the other big cryptocurrency exchanges.
Bitstamp gives users access to more than 54 distinct cryptocurrency options, including the following:
Bitcoin

XRP (Ripple)

Litecoin

Ethereum

ALGO

Bitcoin Cash

XLM

Link

OMG Network

USD Coin

PAX
Through the use of the platform, these cryptocurrencies may be exchanged for a variety of other cryptocurrencies as well as for fiat currencies such as the United States Dollar, the British Pound, and the Euro.
Bitstamp Review – Fees
There are two categories of fees that are charged by any trading platform: trading fees and non-trading costs.
Bitstamp Trading Fees
Trading fees, also known as order execution fees, are the costs incurred by users when placing orders on a platform and having those orders carried out. The vast majority of cryptocurrency exchanges collect trading fees in one of two ways: they either charge spreads or commissions. Spreads are the more common of the two.
Spreads
Spreads are defined as the difference in price that exists between a bid price and an ask price. This paradigm is predominantly utilised by market-maker trading platforms, who take on the role of the trade's counterparty in order to facilitate transactions. Because of this, it might be said that you are trading against the platform itself.
When this occurs, there is typically a disparity between the price at which you can acquire the asset and the price at which it can be sold at any given moment. This is because the price at which you can buy the asset affects how quickly it can be sold. The spread is the difference between the asking price and the purchasing price, which is often referred to as the bid price. The buying price is nearly always greater than the asking price.
You would incur a loss if you tried to buy and sell an asset at the same time, as the two deals would cancel each other out.
Commissions
A flat commission will be applied to each and every deal that you execute, which is the other type of trading cost that an exchange may charge you for. This is often a relatively tiny proportion of the trading volume and is calculated in a manner that decreases over time. This means that the bigger your trading volume, the lower the fees that you will be required to pay in this respect.
Bitstamp review – Fee Structure
Bitstamp features a simple cost structure in the form of a commission-based model; the fees you pay are determined by the amount of trading volume you do over a period of thirty days.
The following cost structure has been provided for your reference and the platform does not charge any spreads: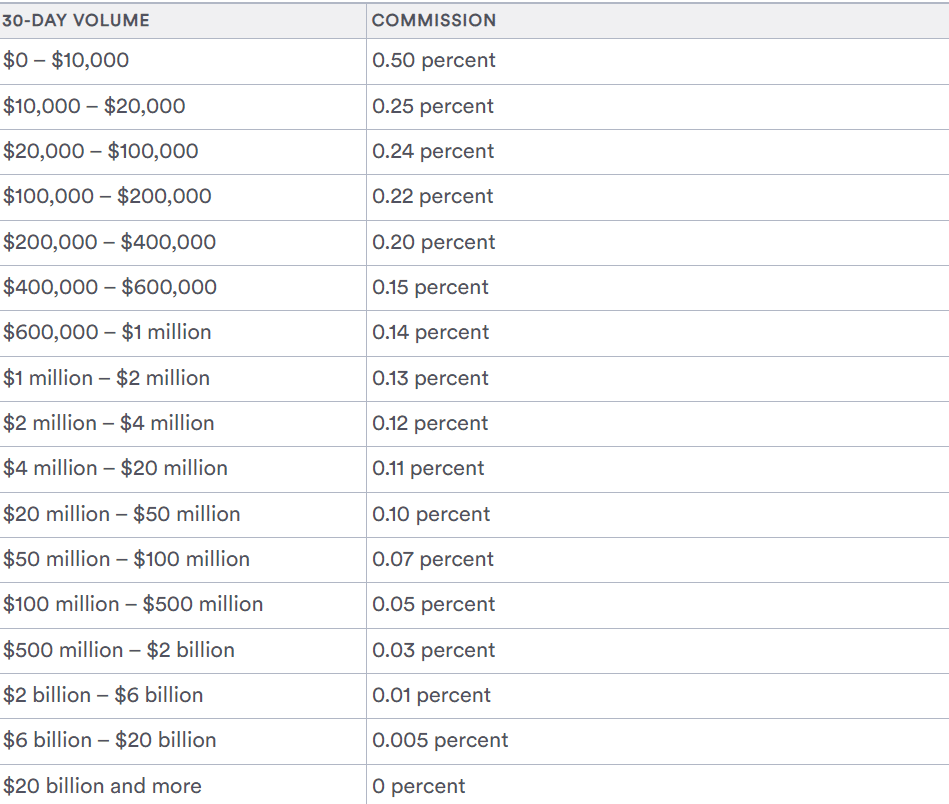 Bitstamp Non-Trading Fee
In addition to the price for conducting trades, cryptocurrency platforms may frequently levy a wide range of other fees and levies as well. These are covered in further depth in the next section.
Deposit Fees
In order for consumers to be able to deposit money into their accounts, the majority of cryptocurrency exchanges need users to pay a fee.
When making deposits on Bitstamp, the fees that you will be responsible for paying will be determined by the method of deposit that you select.
If you decide to add funds to your account using your debit card, there is a fixed fee of $10. On the other hand, you will be charged a flat fee equivalent to 2% of the amount you add if you decide to add more than $10,000 to your account.
A fixed fee equivalent to 5% of the total amount of your deposit will be charged if you decide to deposit money using a credit card.
SEPA European Bank Transactions, ACH transfers, cryptocurrency transfers, and Faster Payments are all free for users in the UK.
Fees for Withdrawals
If you want to take money out of the platform, the majority of cryptocurrency exchanges will charge you fees when you do so. These costs are comparable to the deposit fees.
When you want to take money out of your Bitstamp account, there is a withdrawal charge associated with it, and the amount of the cost is determined by the method you choose to use.
It does not cost anything to withdraw money with a debit or credit card, as there are no withdrawal fees connected with this method.
There is a fee of 3 euros to withdraw money from a SEPA bank, and there is a fee of 25 euros to send money to another bank account by wire transfer.
Bitstamp Review – Platform Features
The fact that the Bitstamp exchange comes with a number of useful features is one of the primary reasons why bitcoin traders gravitate toward using it. These are covered in further depth in the next section.
Fiat-to-Crypto Gateway
Users of the Bitstamp platform are able to trade cryptocurrencies using fiat currencies such as the United States Dollar (USD), the British Pound (GBP), and the Euro (EUR). This is one of the most significant benefits connected with utilising the Bitstamp platform.
Users are therefore able to effortlessly convert their fiat currencies into cryptocurrency and vice versa, all while paying fees that are on par with the market standard and utilising a cryptocurrency exchange that offers a very high degree of liquidity.
Bitstamp is one of the world's oldest and most well-known cryptocurrency exchanges, and the company is constantly expanding the range of cryptocurrencies it supports through initial coin offerings (ICOs) and direct listings. This factor contributes to the popularity of the company among users of all experience levels.
Bitstamp is distinguished from its competitors by the fact that it enables users to quickly convert fiat dollars into cryptocurrencies, a feature that the vast majority of cryptocurrency exchanges do not yet provide.
Regulatory Compliance
When dealing with a market that is as fresh and untested as that of cryptocurrencies, regulation is of the utmost significance. This is especially true when considering the large number of cons and cons that are frequently perpetrated in the market.
Because most large cryptocurrency platforms do not have a firm foundation, as well as because the laws and regulations of most countries do not allow for the regulation of cryptocurrencies, they are not controlled. This is the primary reason why cryptocurrencies are not regulated.
However, throughout all of Europe, Bitstammp was the first fully regulated custodial cryptocurrency exchange. Because of this, it is an appealing choice for individuals who are looking for a safe and secure exchange where they may keep their assets.
Bitstamp is one of the few exchanges in the world to have been granted a licence by the Luxembourg Financial Industry Supervisory Commission (CSSF), which governs the cryptocurrency industry in Luxembourg.
Debit and Credit Card Purchases
Users of the Bitstamp platform are granted the ability to buy cryptocurrencies directly using their credit cards, as well as make transactions with their credit cards.
Because of this, you are able to make purchases right away on Bitstamp rather than having to rely on slower, more traditional ways of deposit, such bank transfers.
If you want to buy cryptocurrencies with the Bitstamp mobile app's instant buy function, all you have to do is navigate to the page of the asset you want to buy, choose the amount you want to invest, pick the debit or credit card you want to use for the transaction, and then click the buy button.
Your transaction will be carried out in what feels like the blink of an eye. It is essential to keep in mind that the capability to acquire instantaneously may be restricted to Bitcoin and a certain number of other big cryptocurrencies, despite the fact that this list keeps growing on a regular basis.
Low Fees for SEPA
The fact that the Bitstamp app supports a payment option in addition to credit cards and debit cards is one more advantage connected with using the app.
For example, customers in Europe who access the Bitstamp platform may quickly deposit and withdraw monies straight to their bank account through the use of a SEPA transfer or an international wire transfer.
Although the wire transfer may be slightly more expensive when compared to the SEPA transfers, the non-trading fees that are charged are quite low and competitive when compared to the other fees that are standard in the industry, as we saw in the section of this review that was devoted to fees other than those associated with trading.
As a result, the Bitstamp platform offers European customers the choice of a straightforward withdrawal and deposit process through a SEPA or bank transfer, making it incredibly easy for them to trade with the platform. European users are now able to trade on the site thanks to this.
Mobile App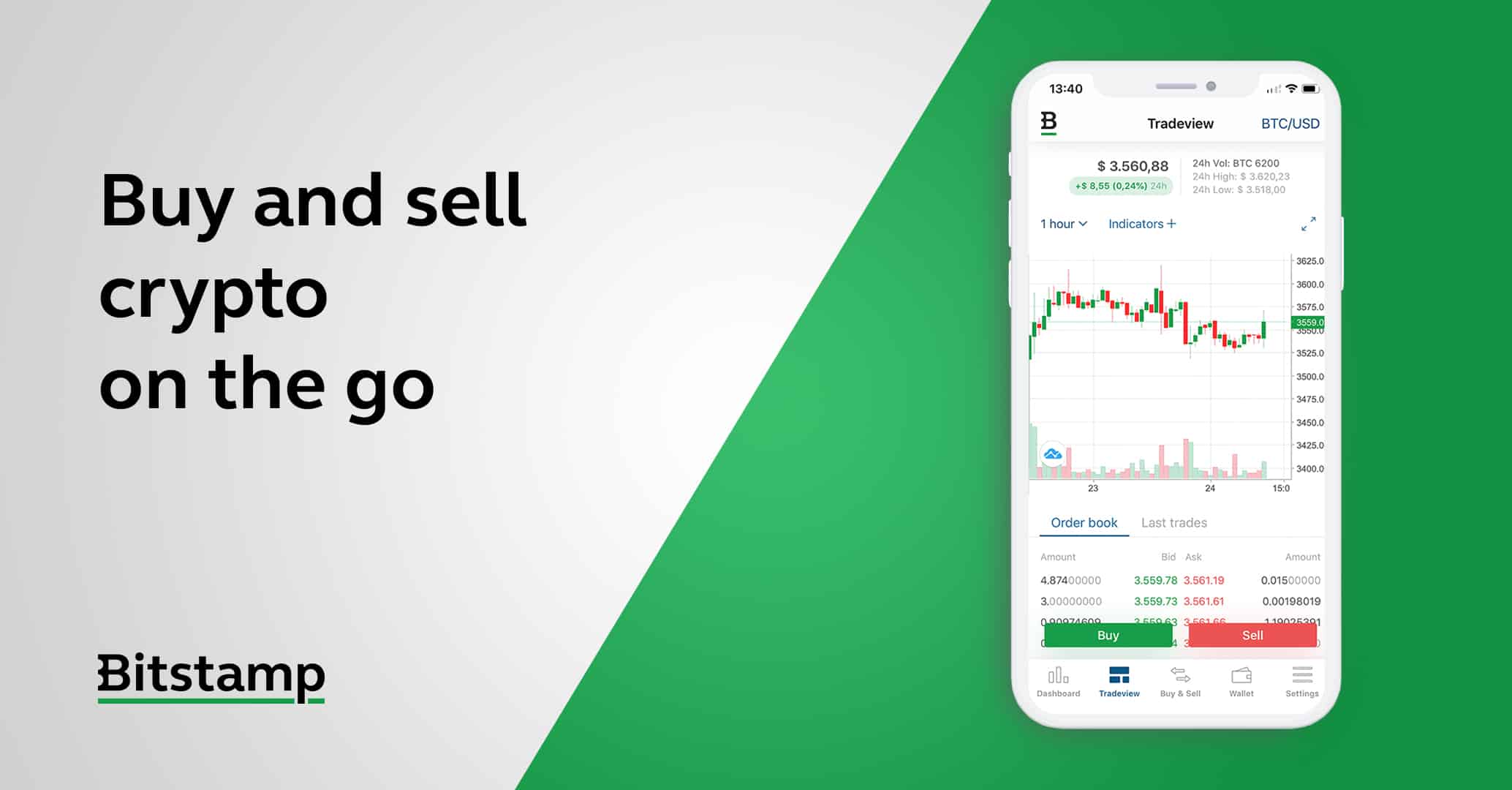 Additionally, utilising the Bitstamp mobile app is a breeze, and it can be downloaded on mobile devices running either iOS or Android.
Downloading the mobile application, signing in with the user's account information, and immediately beginning to trade assets using the mobile interface of the platform are all options available to users.
The mobile application has been made in such a manner that it is easy to use and uncomplicated, so that even novices will have no trouble picking it up quickly.
Bitstamp wants to make sure that its trading platform is useful for individuals at both the beginning and the end of the learning curve by giving it a straightforward appearance and user interface.
Advanced traders may add any further features to the platform that they would want in order to execute trades profitably, and the interface can be customised.
Bitstamp Review – Safety Measures
Bitstamp was the target of a cyberattack in 2015, which resulted in a loss of more than $5 million (19,000 BTC). At the time, this was one of the most common forms of cyber attack carried out against a cryptocurrency exchange. It was a targeted phishing assault.
The hack produced a significant drop in consumer trust in the Bitstamp platform, which led a significant number of customers to consider moving their assets to other exchanges.
However, since that time, Bitstamp has improved its security measures to the point that they are now considered industry standard. This ensures that an event like the one that occurred in 2015 will never occur again. The following is a discussion of some of the key security elements that are included into the platform:
Offline Storage
Over 85 percent of all of the digital assets that are held on the platform are kept offline in wallets known as "cold." By storing them in a location that is not accessible online, you can ensure that they cannot be accessed digitally and are, as a result, protected from any potential cyber threats.
Multi-Signature Wallets
After 2015, Bitstamp began implementing multi-signature wallets as a part of an overhaul of the security measures that were in place on the exchange.
Because they call for several private keys to be entered before a transaction can be authorised, these wallets bring an additional level of protection to the network. Because of this, it is now more difficult for cybercriminals to break into someone's wallet and perform cryptocurrency transactions that syphon off all the money for themselves.
Regular Auditing
Due to the fact that the authorities govern the market, the exchange is required, on a yearly basis, to submit to an audit of its financial situation and liquidity carried out by one of the Big Four accounting companies.
The results of this audit will assist to verify that the exchange's finances and liquidity remain in a solid position.
Two-Factor Authentication
Users of the exchange are strongly encouraged to enable two-factor authentication on their accounts. This ensures that financial transactions can only be completed after being confirmed with a code that can only be found within the Google Authenticator mobile application.
Because of this, the wallet and the account are protected from having transactions conducted on them by unauthorised parties, provided that the unauthorised party does not have access to the device that the user is using.
Bitstamp Review – Final Verdict
In conclusion, despite the fact that Bitstamp is one of the most well-known trading platforms for cryptocurrencies in Europe, there are a great number of details that need to be taken into consideration before selecting it as the platform of choice.
To begin, the system features a highly intuitive user interface and offers prices that are comparable to those of other platforms. In addition to this, they provide excellent support for a variety of payment options and offer customer care that is both quick to respond and highly helpful.
However, there are a few issues that can't be solved without the platform itself. To begin, they do not have a maker-taker fee schedule, they have been hacked previously, and their cryptocurrency offering is rather restricted in comparison to some of the other bigger cryptocurrency exchanges.
In light of all of this, it is imperative that you give careful consideration to all of these aspects before making your choice.
Latest News