BlackRock Moves Towards Launching an Ether ETF
BlackRock is awaiting the SEC's approval for a spot Bitcoin ETF.
The price of Ether surged by over 7% on Thursday.
Ark Invest is planning to launch a new suite of digital asset ETFs with 21Shares.
---
Ethereum, the second-largest cryptocurrency by market capitalization, saw a huge rally on Thursday, caused by BlackRock's first step towards an Ether ETF. BlackRock, an asset manager reportedly registered an iShares Ethereum Trust in the state of Delaware.
Delaware's Division of Corporations website showed that an entity identified as BlackRock Advisors submitted the paperwork. Daniel Schwieger is listed in the file as the registered agent. Schweiger's LinkedIn profile shows that he works as a managing director at BlackRock.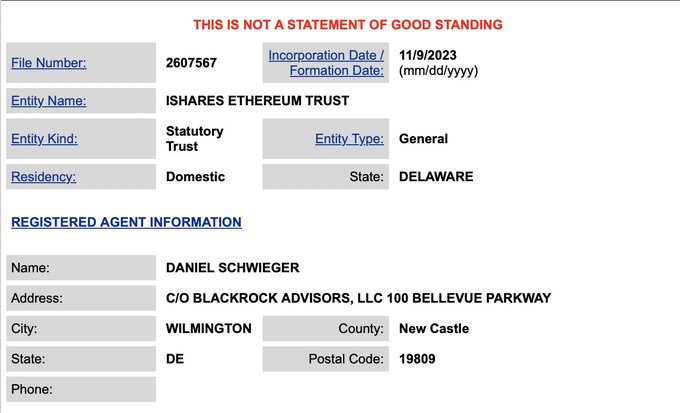 BlackRock's iShares product is the leading exchange-traded fund with over $2.3 trillion in assets under management. BlackRock registered its Bitcoin trust in June and filed for a Bitcoin ETF with the United States Securities and Exchange Commission (SEC).
The price of Ether reacted to BlackRock's new move, surging by 7% and crossing $2,000 for the first time since April. Ether's core rival, Bitcoin, saw a similar surge during the summer as asset managers launched bids for Bitcoin ETFs.
The crypto market remains optimistic about seeing a Bitcoin ETF this year. However, the SEC has yet to grant such an approval. The US watchdog has expressed concerns about a Bitcoin ETF and prevented Grayscale from turning its Bitcoin trust product into an ETF. A judge overturned the SEC's decision in August.
The SEC chose not to appeal the ruling but could come up with other reasons to halt Grayscale's conversion and any other bitcoin funds being considered. Many believe the SEC could approve ether funds after it allows bitcoin ETFs.
BlackRock's proposed spot bitcoin ETF reportedly has strong support from the finance world. According to reports, major trading firms like Jane Street, Virtu Financial, and Jump Trading are considering supplying liquidity to the new product if approved by regulators.
In other news, Bitcoin investment expert Cathie Wood of ARK Invest and exchange-traded product (ETP) provider 21Shares have partnered to introduce a new line of digital asset ETFs. The new partnership will allegedly provide investors seeking to include digital assets in their trading portfolio with a wider array of options.
21Shares wrote in a statement:
Leveraging onchain signals and our crypto-native experience, the suite aims to deliver long-term capital appreciation through strategic investments in Bitcoin and Ethereum futures contracts and the application of blockchain technologies.
As per the announcement, the Chicago Board Options Exchange, or Cboe, will list the ETFs. Also, five products will begin trading next week, according to 21Shares.
Ark, however, noted that the funds do not offer investors a chance to invest directly in digital assets. The investment company noted that "neither the funds nor the underlying ETF invest directly in bitcoin or other digital assets or maintain direct exposure to spot bitcoin… Investors seeking direct exposure to the price of bitcoin should consider an investment other than the funds."
Latest News