BlackRock Files for a Spot Ether ETF with the SEC
BlackRock and other major institutions have filed for a spot bitcoin ETF and are awaiting the SEC's response.
BlackRock's ETF products are branded under the iShares name, and their Bitcoin ETF is known as the iShares Bitcoin Trust.
The prices of some cryptocurrencies have reacted strongly to ETF-related news.
---
The largest asset management firm in the world, BlackRock, formally submitted an application to the US Securities and Exchange Commission (SEC) on November 15th for a spot Ether exchange-traded fund (ETF).
According to the S-1 document submitted to the SEC, the goal of the Ether ETF, also known as the iShares Ethereum Trust, is to "reflect generally the performance of the price of Ether." BlacRock named crypto exchange Coinbase as the custodian for its crypto holdings.
BlackRock's filing comes days after it registered the iShares Ethereum Trust with Delaware's Division of Corporations, and Nasdaq filed a 19b-4 request for approval of the spot ETF with the SEC. Interestingly, the price of Ether reacted to today's news, with the cryptocurrency experiencing a quick surge of almost 2% to $2,080. However, ether has since stabilized at its pre-news level.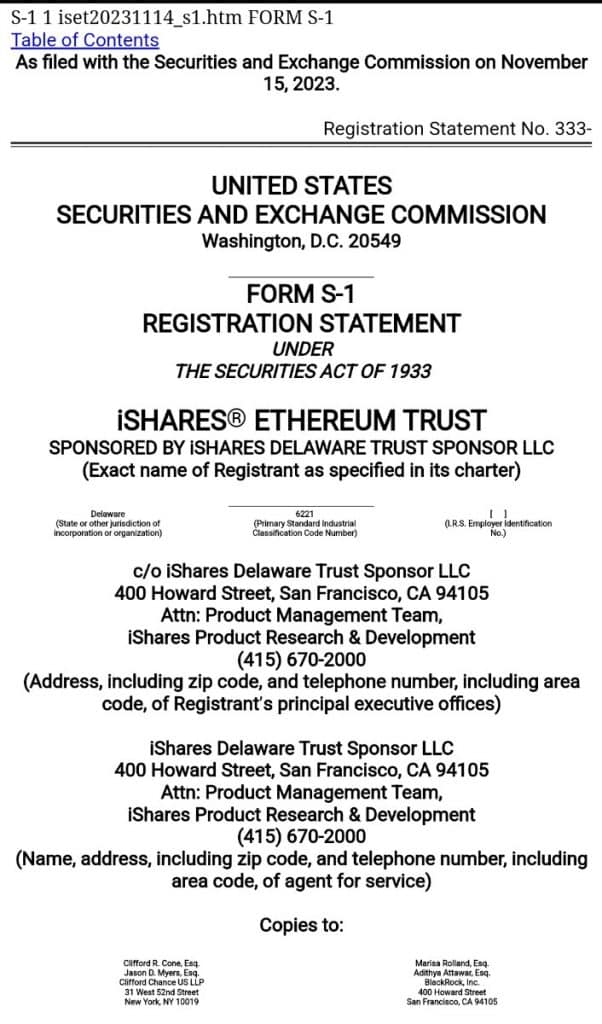 The process of submitting a spot ETF involves two steps: first, the ETF issuer needs to obtain SEC approval from the Trading and Markets division for their 19b-4 file, and then from the Corporate Finance division for their S-1 filing.
BlackRock was the driving force behind most institutions' cravings for a spot Bitcoin ETF. Many see these multiple requests as a sign that global institutions are more interested in the crypto space than they were a few years ago. BlackRock now joins the growing list of companies to file for a spot ETH ETF within the last six months.
The SEC has thus far refused to approve any application for a spot bitcoin ETF. The regulator has offered several explanations for its refusal. For example, several large institutional players applied for crypto spot ETFs during the previous bull market, but their applications were turned down by the SEC on the grounds that the cryptocurrency market was not large enough to support such an ETF.
Recently, the SEC cited concerns about market manipulations. However, the SEC has suffered several legal defeats that led to hopes it could approve a spot bitcoin ETF soon. Most institutions rushed to apply for a spot Ethereum ETF early this month after the SEC acknowledged Grayscale Investment's proposal to turn its Ethereum trust into an ETF.
In addition, most ETF researchers and market pundits believe that there is a 90% likelihood that a spot Bitcoin ETF will be approved by early 2024. And that the SEC might approve a spot ETF afterward.
The crypto market is currently recovering from a long bear market, and most experts claim that the SEC's approval of any crypto-focused ETF will be a huge boost to the market.
Latest News