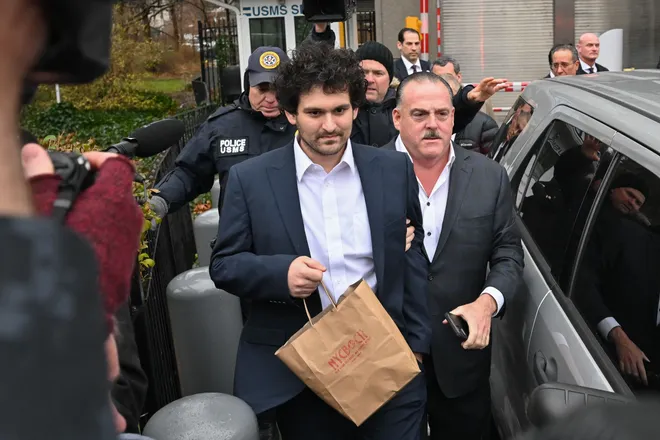 Sam Bankman-Fried is Released on a $250 Million Bond
Sam Bankman-Fried was granted bail with strict conditions that limit his movement and financial activities.
The 30-year-old is banned from starting any business and must seek approval for transactions exceeding $1,000.
Bankman-Fried's bail comes hours after his close associates pleaded guilty to criminal charges.
Former FTX CEO Sam Bankman-Fried, who was accused of defrauding investors and stealing customer deposits, was spotted leaving a Manhattan courthouse with his parents on Thursday after they agreed to sign a $250 million bond to secure his release. Assistant U.S. Attorney Nicolas Roos noted that the 30-year-old crypto executive "perpetrated a fraud of epic proportions" and that the $250 million bond could be the largest federal pretrial bond.
Sam Bankman-Fried's bail reportedly comes with huge demands, which include surrendering his passport and seeking government approval for transactions exceeding $1,000. The FTX founder would also not be granted access to travel documents or allowed to open lines of credit, own firearms, or start new businesses.
The bond was co-signed by Bankman-Fried's parents, both law professors, and two other guarantors. The bond is also secured by his parents' Palo Alto, California, home and mandates that the FTX founder wears bracelets for monitoring.
U.S. Magistrate Judge Gabriel Gorenstein noted that federal law requires him to accept the bond package unless he determines there is no way to guarantee Bankman-Fried would show up for trial. The judge also mentioned that the defendant's lack of a criminal or violent past supported his bail proposal.
Bankman-Fried was transferred from the Bahamas to the U.S. on Wednesday and made his first appearance in a US court hours later. The 30-year-old was arrested last week on accusations of wire fraud, conspiracy, money laundering, and other financial violations. While the FTX founder was on his way to the United States, the Manhattan U.S. attorney announced that two of Bankman-Fried's business partners and friends had also been charged and had quietly entered plea deals.
Gary Wang, 29, who co-founded FTX, and Caroline Ellison, 28, the former CEO of the trading company, Alameda Research, pleaded guilty to counts of wire fraud, securities fraud, and commodities fraud. Authorities added that both parties were cooperating with prosecutors.
Latest News