How To Make Money On Upwork
What is Upwork?
Freelancers in many different industries may find freelance work on Upwork, including those in writing, design, digital marketing, and programming.
The platform facilitates the process of finding work, interacting with potential clients, and being paid.
As a new freelancer just beginning their freelance career or someone entering a new sector, you may get experience without always having to make cold calls. However, there are always new freelancers signing up for jobs on the site, which is a great way to make money online, and they may be more eager to work for less money.
The Upwork platform is great for finding employment and expanding your income through a freelance business, but it's important to be selective about the assignments you apply for.
Making Money on Upwork: A Guide
Create a detailed profile
For potential clients, your Upwork profile is the equivalent of a standard resume. Without one, it will be quite difficult to find jobs.
Indicate your preferred work setting, your knowledge in various fields, and the specific tasks for which you feel qualified. Since this is all reported by yourself, please provide accurate information. Your account might be put on hold or terminated if you accept jobs you are unable to complete.
Then, finish up your profile by including a photo and a thorough explanation of your experience. Linking to a portfolio or individual pieces of work is acceptable.
In addition to your availability, desired pricing, location, and level of education, you may also include the details of your formal education. Looking at the pricing of similarly skilled freelancers on Upwork might give you a good idea of what to ask for your services.
If your profile information is valid and can be verified, you may expect an approval from Upwork within 24 hours. Once that's done, you may begin your job.
Pick a membership tier and get involved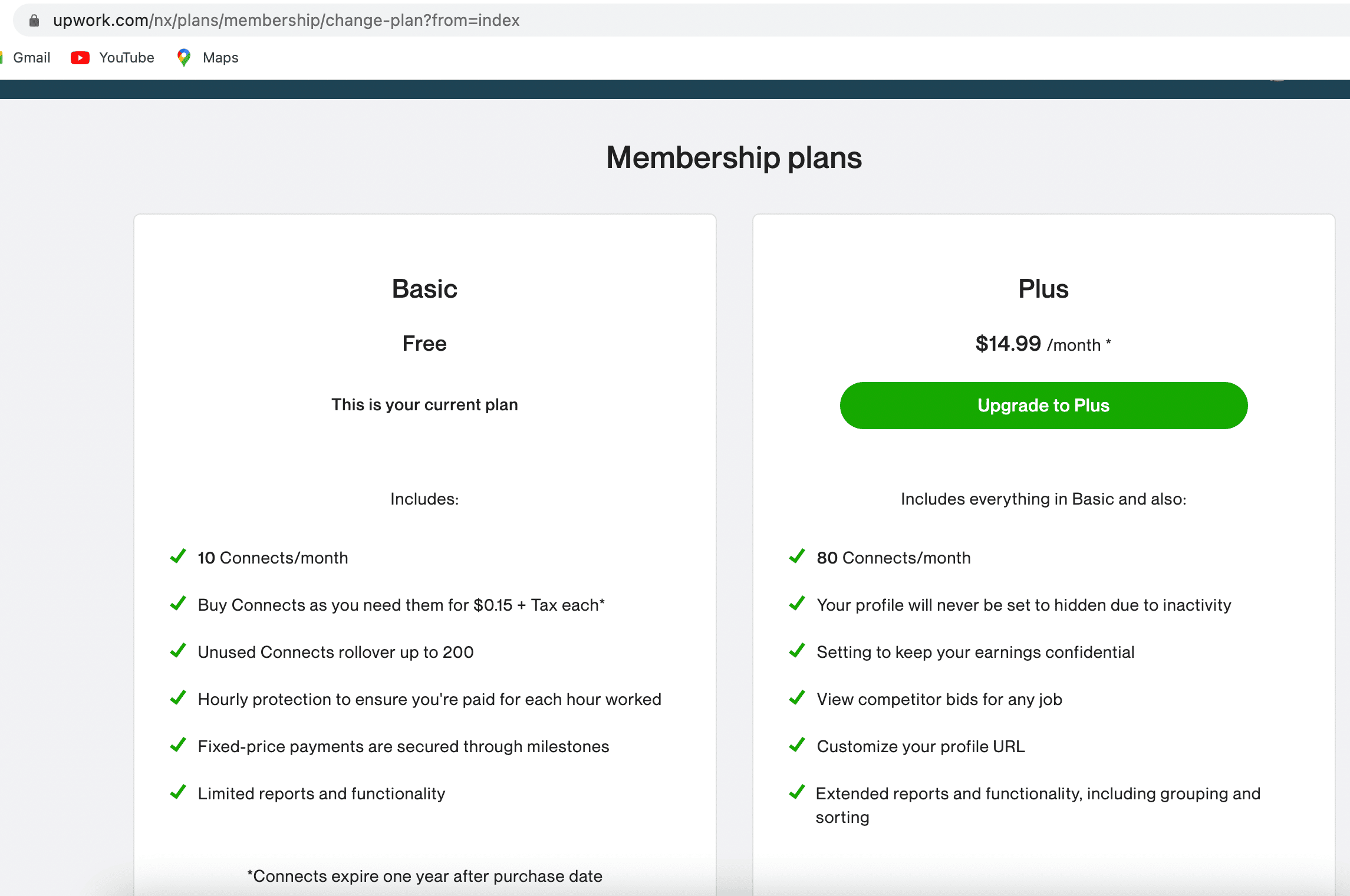 Freelancers can choose between the "Basic" and "Plus" membership tiers on the Upwork freelancing platform.
Basic
The package itself is free, but establishing contact with a potential client will cost you. Each month, freelancers on the platform's basic plan are given ten free "Connects," the platform's internal tokens used to submit proposals to customers.
Additonal Connects are available for $0.15 apiece when purchased in quantities of 10, 20, 40, 60, or 80. Upwork's campaigns often include the distribution of Connects as a free gift to participants.
Your Connects roll over from month to month, but after a year they will expire if you haven't used them.
A more impressive profile increases the likelihood that employers and Upwork clients will contact you about opportunities.
You may distinguish yourself from other freelancers by showcasing your greatest work or emphasizing relevant experience. Volunteer work may be just as valuable as paid experience if you're just starting out.
Hourly and project-based payments are covered under the standard plan, as well.
Plus
All the features of the basic subscription, plus 80 monthly Connects, are included in this $14.99/month option.
Exposure to the bids made by several parties for a certain project.

Earnings can be kept secret if desired.

The option to change your permanent profile link.

A dormant profile will never be removed.
Get in touch with potential (legal) employers
Send in bids for work that's in your expertise using your Connects. Your proposal should start with a cover letter explaining why you're the best candidate for the job, your desired rate, and your replies to any queries the customer may have.
Send in any samples of your work that you believe would be helpful.
Know the company's standing before you submit your application. You may learn a lot about a company by reading their reviews on sites like Glassdoor and the BBB and by searching Google for articles about the company.
Use Upwork's star rating system to determine who you want to work with and who will employ you.
After the work is done for both parties, ratings are exchanged like in an app like Uber or Lyft. Ratings for employers are shown on their profiles using a 5-star system.
Your Job Success Score is a number displayed on your profile that is based on client ratings and indicates the percentage of jobs you have completed to the customer's satisfaction.
Keep all transactions and communications within the site itself, even if everything checks out.
Since clients would be held responsible for making questionable payment or job requests or making claims about your work without in-person verification, the practice of documenting conduct on both sides inhibits frauds.
Pick a fee and get to work
Payouts are subject to an Upwork fee. The percentage of total billings that is deducted from each client's account decreases the longer you continue to engage with that client. Upwork's typical procedures include:
20% of the first $500 in billings from a new customer.

Invoicing totals between $500 and $10,000 will earn a 10% commission.

Over $10,000 in total billings with one client earns a 5% discount.

You can negotiate a fee per hour or a flat rate. For Upwork, the costs are equivalent.
Before Upwork's service fee is deducted, your hourly rate is the price listed. As a result, if you charge $20 per hour for your first engagement, you may expect to make $16 per hour after the 20% service fee is deducted. After you've invoiced $500 to that client, your hourly rate increases to $18.
The same principle applies when bargaining for a set rate: if you agree to work for $400, for example, you will receive $320 after a 20% deduction. If you charge $500 to a customer, your fee lowers to 10%.
Be skeptical of offers of employment that seem too good to be true, especially if the compensation is poor. Try to get to an agreeable pricing with the consumer.
Tasks that take up one hour at a time
The Upwork desktop software features a built-in Work Diary where you can keep track of all your billable hours. If you enable this feature, the app will meticulously document how far along you are in a certain project.
The program monitors your input and keeps a log of your 10-minute billing intervals. A periodic screenshot is also taken.
You are not required to use the Work Diary and can instead keep track of hours worked manually, although doing so will increase your chances of being eligible for Upwork's Hourly Protection program. Even if a client disputes your invoice, this service will see to it that you get paid for the work you've accomplished.
Projects with a predetermined budget
Fixed-price projects have simpler billing and payment structures. When you get into a contract, the other party is obligated to set aside a particular sum of money.
In addition to a general end date, the employer should designate specific completion dates for intermediate "milestone" tasks.
After reaching these milestones, you will get a portion of the deposit, with the remaining balance due upon completion of the project.
Earn Money on Upwork through Upwork jobs
Freelancers on Upwork have three safe options for being paid: PayPal, direct deposit, and wire transfer.
The weekly invoices cover all of the time spent on your projects. Ten calendar days following the end of the billing period, you and the customer will assess the completed work and make a payment decision.
Hourly Protection and milestones are useful in case a project is cancelled before completion. Upwork provides a dispute system in the event of unequal payment.
With a fixed-price project, payments begin after certain milestones are reached. If the customer does not pay by the agreed upon deadline or if they do not pay for work that has been performed to your satisfaction, you have the right to file a dispute.
Latest News