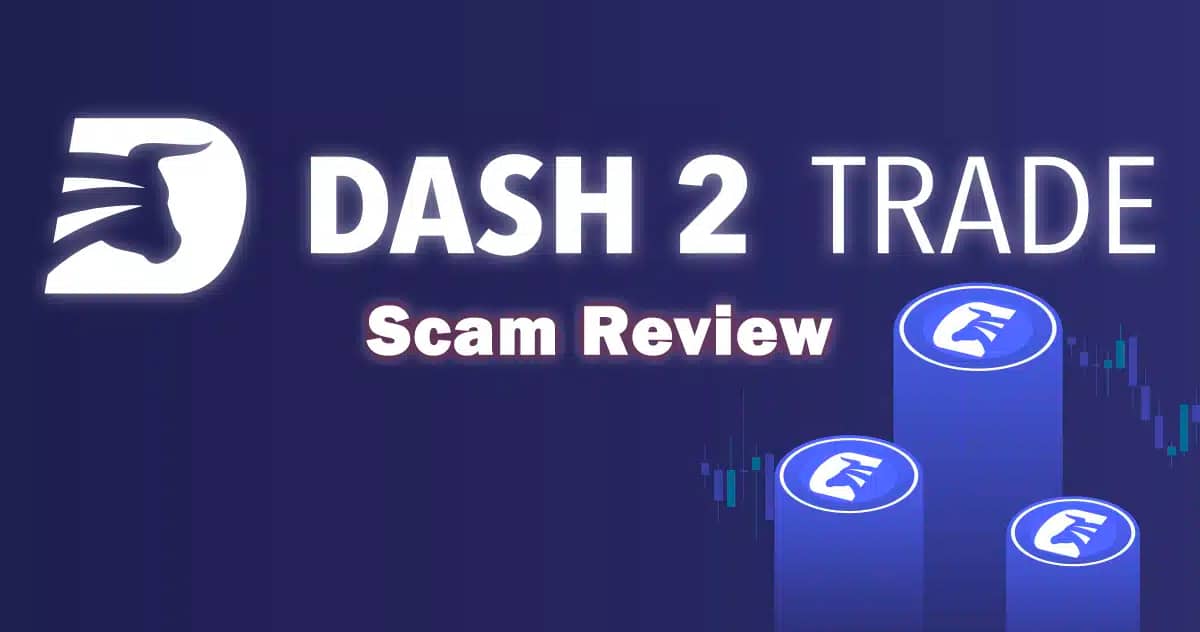 Dash 2 Trade Scam Review – Rug Pull [Updated November 2022]
Based on our investigation, we are convinced that "Dash 2 Trade" is another rug pull founded by the same company behind Luckyblock and Tamadoge. We advise potential investors to proceed with caution.
With over $2.1 million raised in a little over a week during the Dash 2 Trade presale, the trading intelligence platform is well on its way to having one of the most successful token sales of the whole year. The progression of the sale from stage one to stage two, at which time the price of D2T increased from 0.0476 to 0.05 USDT, does not appear to have had any discernible impact on the rate at which it is proceeding.
Dash 2 Trade, based on the Ethereum blockchain and intends to provide its customers with a variety of real-time analytics and social trading tips, has received a significant vote of confidence based on the total amount it has been able to generate thus far. It intends to launch its platform in the first quarter of the following year, which is also the time when it anticipates its D2T cryptocurrency will receive its first exchange listings. The presale will take place first. However, is it a legitimate project? This review analyzes the project, its history, and more.
Dash2Trade Verdict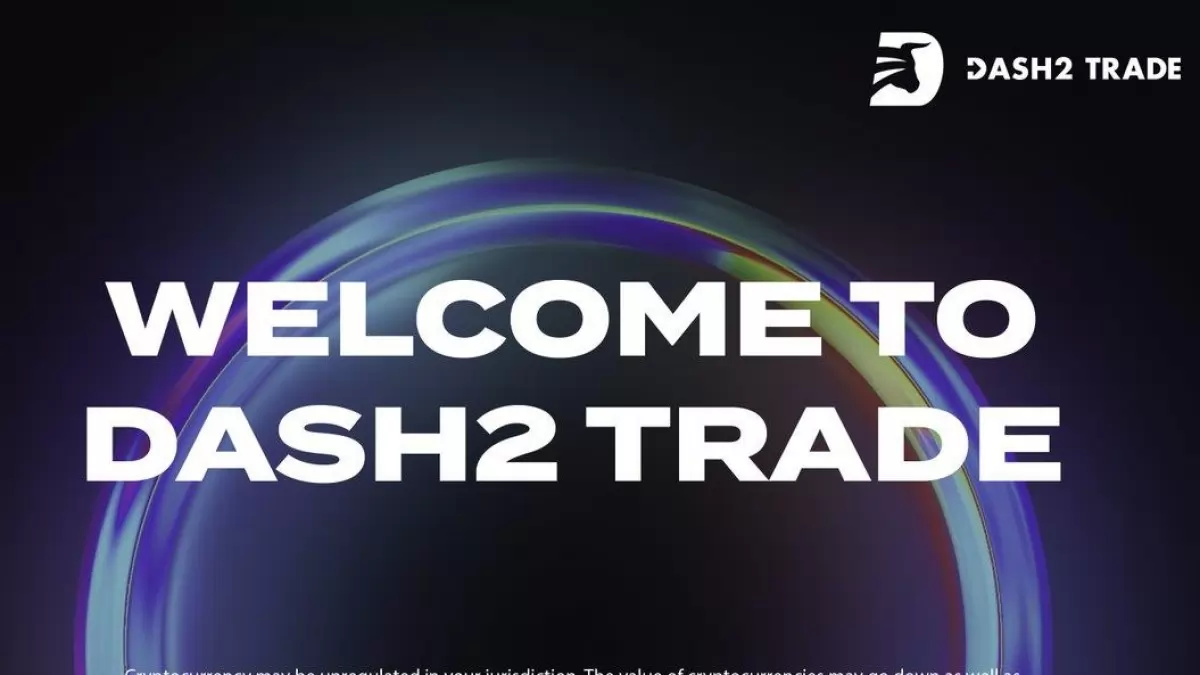 On the surface, it looks as though Dash2Trade is the perfect crypto trading platform to get started with the crypto market – providing social trading tools and other technical indicators to allow traders to begin trading. However, after a deep analysis, we came to the conclusion that given the shady history of the founding company, and the fact that they are on international watchlists as a company known for creating fraudulent, heavily marketed crypto projects, we advise everyone to stay away from the project and beware of any similar projects that might have a questionable past.
Our review and analysis process is highly in-depth and involves a number of factors – including but not limited to:
A deep dive into the platform – what is the interface like, how is the navigation, does the project's website look like it is only trying to maximize sales?

How the reviews compare between the testimonials displayed on the website and reviews on other social media platforms such as Twitter and Reddit.

The historical performance of the project – how old is it and does it have a demonstrable track record that can be used as a guarantee of its legitimacy?

The customer service provided by the platform – how quick are the responses, how many different channels are available, and the helpfulness level of the responses.

The owners of the project – any past projects they may have worked on and the performance of those projects over time, both during and after their involvement.
What is Dash2Trade Used For?
Dash 2 Trade, like any other cryptocurrency initiative focused on providing a utility, has a wide variety of applications. The following are some of the most notable features:
Trading Signals
Dash 2 Trade's primary function is that of a signals platform. As a result, users can identify new chances that are lucrative by making use of the vast array of tools that are made available by Dash 2 Trade. In addition to this, Dash 2 Trade helps investors save money by boosting their likelihood of being successful, which is made possible by the platform's highlighting of market patterns.
Locating Potential New ICOs
Discovering new initial coin offers (ICOs) and presales is one of the most fascinating applications for the Dash 2 Trade platform. Access to the unique ICO rating system is included with both the Starter and Premium membership tiers of Dash 2 Trade. As a result of this, it is feasible to use Dash 2 Trade to locate some of the top initial coin offerings (ICOs) that are currently accessible.
Analytical Data
The goal of every trader and investor is to arrive at the best possible option regarding a trade. However, it is far simpler to say than it is to actually carry through. Dash 2 Trade, on the other hand, may dramatically improve decision-making because of the abundance of on-chain and off-chain indicators that it provides, which in turn reduces losses and increases profits.
Vehicle for Making Investments and Providing Investment Advice
The Dash 2 Trade presale provides an outstanding opportunity to acquire some D2T tokens at a significant discount when compared to subsequent sales. Dash 2 Trade is an investment opportunity that unquestionably has worth due to the fact that it is anticipated that the asset's value will rise throughout the presale. As a result, it is recommended that any investor who is interested in maximising their returns look into it.
What Factors Determine the Price of the Dash2Trade Token?
It is essential to have an understanding of the factors that influence the price of Dash 2 Trade as the cryptocurrency is anticipated to be released onto the open market over the next few months.
Supply and Demand – Supply and demand are the primary factors that determine the value of virtually any financial asset. However, because D2T has a fixed quantity of one billion tokens, which are required to pay for membership on the Dash 2 Trade platform, the impacts of supply and demand are considerably exaggerated due to the natural need for the cryptocurrency.
Utility is one of the primary components that contribute to the overall worth of an asset, which is referred to as the asset's intrinsic value. If a project addresses a genuine problem, there will always be a need for it, regardless of how the market is performing at the time. The primary focus of Dash 2 Trade is on providing its users with helpful tools and measurements. In comparison to most cryptocurrencies, this emphasis on utility and inherent value is far higher.
Dash 2 Trade is a membership-based platform; therefore, the size and activity level of its user community is one of the most important factors in determining the value of Dash 2 Trade tokens. Demand for the D2T token will increase as the platform gets more well-established and attracts a larger number of users. This, in turn, will lead to an increase in the value of the asset.
Dash2Trade Features
Dash 2 Trade's primary value proposition is the dashboard, which, in order to make use of the majority of its primary functions, will necessitate the ownership of a predetermined quantity of D2T tokens.
The project is being worked on by a group of 15 individuals, all of whom have extensive experience in the fields of trade and cryptocurrency. Both individuals are combining their expertise in these fields in order to achieve the objectives they have set for themselves.
The majority of trading platforms do not provide the same set of functions that are available on the dashboard, including the following ones:
A risk profiler is a set of investment methods that are designed to cater to the individual risk tolerances of different types of investors and speculators.

Auto-trading Application Programming Interface (API): This enables users to connect directly to their brokers in order to carry out trades.

Indicators that are technical in nature and indicators that are social in nature both provide the possibility for speculators to make judgments that may be put into action about their projects depending on what they consider to be relevant and required.

Presale Initial Coin Offerings (ICOs) and a Scoring System: In contrast to many other presale projects, such as DuckDAODime, Polkastarter, or Avalaunch, Dash2Trade's presale platform includes extensive information and analysis of each project. These are rated based on a variety of metrics that are determined by experts and are presented in a numerical format.

Backtesting: This is highly significant since it means that users are able to try out how their tactics would have fared in the past, prior to testing them out in the future. Backtesting allows users to test out how their strategies would have performed in the past. It's important to remember that the past is seldom a reliable predictor of the future and that history only rarely rhymes but frequently repeats itself.

Listing alerts: automated listing notifications mean that users can know much before others whether or not a project has been listed on a certain centralised exchange. This allows users to make more informed decisions about whether or not to invest in a project. Users of Dash2Trade who take advantage of these warnings may remain significantly ahead of the competition.

On-chain analytics: Typically, this data is provided by businesses such as Glassdoor, and it can be quite challenging for the average retail trader to make sense of and contextualize the information. This entire process is made exceedingly straightforward by Dash2Trade in order to serve the needs of traders and speculators of various stripes within a single platform.

Instead of simply assessing emotions, one can monitor and track the trading journeys of other successful traders in the crypto world, and then duplicate the successes of those traders who appear to be the most competent.
The breadth of value that the Dash2Trade project provides is largely responsible for the continued growth of enthusiasm in the Dash2Trade presale.
People who are interested in taking part in the presale can do so on their website, where they can also keep up to speed with the most recent information via their Twitter account.
Dash2Trade Price History
Dash 2 Trade (D2T) was developed with the goal of enhancing the capabilities of traders and investors all over the world, to assist them in making wise trading decisions. It provides its users with a wide variety of features that have been specifically designed to boost performance and cause impactful trading decisions. In order to accomplish this goal, the project has adopted a methodology that is driven by data and has developed a set of tools that helps make sense of social and market patterns.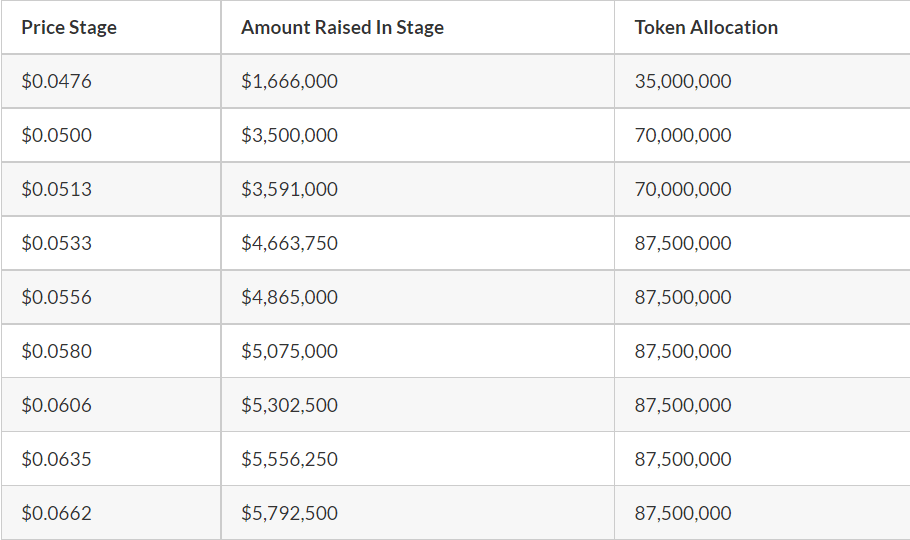 At the moment, the social trading platform Dash 2 Trade is operating in the second phase of the presale process, during which tokens may be purchased for $0.05 each. When compared to its price at stage one of $0.0476, this number has increased by almost 5%. The price of D2T will gradually climb when tokens are sold in lots of 70 or 87.5 million, and it will reach an all-time high of $0.062 during the ninth phase of the process. Between the first and ninth phases, this is an increase of 39%, making Dash 2 Trade one of the top crypto presales for early investors.
The entire amount of Dash 2 Trade tokens is 1 billion, of which about 70 percent were made available for purchase during the presale. As a direct consequence of this, the vast majority of D2T tokens will already be in use when the token first becomes available on the open market. As a result, we might witness substantial price activity from D2T following its release on the open market. This is because investors will hurry to acquire tokens in order to ensure that they have a membership in Dash 2 Trade.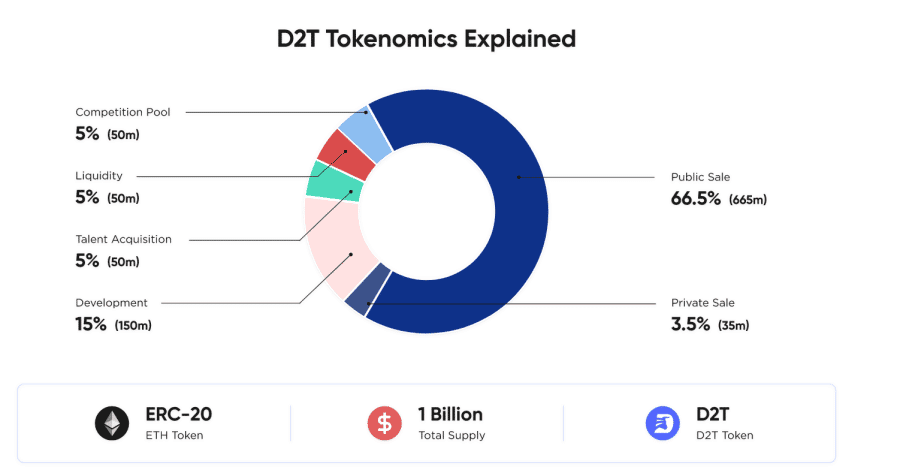 To summarise:
The Dash 2 Trade presale began on October 19 at a price of 0.04667 USD per Dash.

On October 20th, more than $400,000 was raised in less than a day.

The first stage of the Dash 2 Trade Presale concluded on October 23 with a successful completion that brought in a total of $1,666,000.

At the moment, Dash 2 Trade is participating in the second round of its presale, and the price of a D2T token is now $0.05.
Why We Think Dash2Trade Is A Scam
Earlier in the review, we mentioned that despite all the positive attention that Dash2Trade is getting for providing world-class crypto analytics and helping users in testing trading strategies using the most powerful data points, we think that the project is a scam.
Based on our research, it is clear that the project has been founded by Finixio Ltd, and this is a company that has been notorious for developing several rug pulls and pump-and-dump schemes in the past. Two of the most famous fraudulent projects are Tamadoge and Lucky Block, which we have discussed below, complete with reviews from customers.
Tamadoge
In a market dominated by Dogecoin and SHIBA INU, Tamadoge was touted as a cryptocurrency that places a primary emphasis on usability. It took the visuals that are associated with Doge and blended them with the play2earn gaming mechanics. In order to accomplish this, Tamadoge created NFTs that was given the name Tamadoge pets. Players can acquire crypto assets known as Tamadoge pets by making a purchase at the official Tamadoge shop. Every pet has its own distinct appearance, as well as its own set of strengths and limitations. To raise them, players start with the pets as infants and use in-game items like pet food and accessories, among other things. When these creatures reach adulthood, players have the option of using them in a Tamadoge Battle arena, which is a type of turn-based combat similar to that seen in Axie Infinity.
The players will be rewarded with "Dogepoints" if they are successful in these games. After then, at the conclusion of each calendar month, the system will tally up the total number of dogepoints that participants have accumulated. The "Dogepool" will hand out awards in the form of TAMA tokens to those players who have accumulated the highest points. Every purchase made at the Tamadoge store contributes to the Dogepool, which in turn helps to create a cyclical economic environment and ensures that the Tamaverse will continue to exist.
Players may purchase pets, accessories, and other in-game items from the Tamadoge store in order to speed up the process of raising their pets. The shop would also sell items that would speed up the pet's leveling-up process, which would enable users to use their pets in combat. All of the transactions that take place inside the ecosystem use TAMA tokens and 5% of those tokens are burnt every day to bring the overall supply, which is 2 billion, down to a more manageable level.
The majority of cryptocurrency developers impose transaction fees in order to fund further platform development; however, Tamadoge has full trust in the ability of its ecosystem to produce money on its own. Because of this, there is no tax charged on transactions, which was touted as being beneficial for investors who wish to keep a sizeable portion of their gains for themselves.
In addition, the whitepaper for Tamadoge stated that the developers intended to launch an augmented reality mobile app that would allow users to interact with their virtual dogs in the physical world. In addition to that, the project intended to interface with several additional metaverses. Therefore, owners of Tamadoge Pets will also have access to 3D-generated representations of their pets, allowing them to interact with their pets in a metaverse setting. However, there has not been the release of an app of this kind since then.
Because of these considerations, Tamadoge was able to raise 19 million USDT in just two months despite the bad market conditions, which indicates that the cryptocurrency ecosystem is thirsty for cryptocurrencies that will have utility in the near future.
However, over time it turned out that the project was a scam – and numerous reviews on Reddit echoed the same sentiment, such as one that we have attached below:
Tamadoge, is currently being shilled by influencers and YouTubers and is trying to capitalise on the success of Dogecoin and Shiba but there are some serious warning signs. Its supposedly already raised 11million in premarket sales.

Tamadoge markets itself as a game in which players will be able to mint doge pet NFTs, then breed, train and battle with those Tamadoge NFTs for TAMA rewards, taking part in mini-games and challenges to compete for a position on the monthly leaderboard.

Supposedly it's an ERC-20 token, the which claims to be audited.

There are some serious red flags with Tamadoge.

Firstly it's being sold via a "presale" with no way to check it's actual value as it's not listed on exchanges. It could be overinflated on purpose to enrich the creators.

Secondly it only promises to develop a game. The details are very light on and there is nothing stopping the creators from rugging the whole project without developing a thing.

Thirdly it's an ERC-20 token, anyone can create that and slap a website together.

Lastly nobody knows who the developers are.

Tamadoge is likely a scam or rug pull, beware!

Source: Reddit
Lucky Block
Powered by blockchain technology, the online lottery games that employ the Lucky Block token are decentralized and take place on the internet. Because of the fact that every participant had the same odds of winning, the Lucky Block platform was hailed as a ground-breaking innovation in the world of lottery games.
The goal of the project was to improve the lottery draw procedure by making it more fair and transparent, and it did this by utilizing the power of new technologies that were created on the Binance Smart Chain. Because it is built on blockchain, every transaction can be viewed in public ledgers. This ensures that each participant receives the same treatment regardless of who they are. The website made the claim that it does not allow fraudulent activity and that all winners are selected at random.
The implementation of this novel strategy for lottery games resulted in the rapid growth of a supportive community within a couple of months, which encouraged the development of a variety of original NFTs. Even though the LBLOCK token is still relatively new on the market, it appears that its value will continue to rise consistently in the years to come. The total value of the lottery prize pool was estimated to be $5.5 million, while the market capitalization after dilution reached a new all-time high of $530 million.
However, the project quickly began to run into problems. Even though it boasted prizes worth $1 million or more, it was unable to pay any of these out because its NFT collections simply did not sell. After a while, the project funds simply 'disappeared' and all the investors as well as the NFT buyers ended up losing their money.
Dash2Trade
Dash2Trade is the latest in a long line of projects created and marketed by Finixio Ltd., a company that is known for being a scam and that has notably created many rug pulls in the past, including the ones discussed above. As a review on Reddit stated about Lucky Block:
How can people not see Lucky Block is a scam?
Don't know why so many people are falling for this, it took me 20 minutes of research to work out what is going on.
The same team have launched 4 other cryptocurrencies in the last 12 months which have all been rug pulls.

The team behind it (Finixio) is literally known for scamming and are no doubt on several regulator watchlists, they have even been in major newspapers for it:

They promote it aggressively on their own network of websites and talk it up in their media sections without disclosing that they own it. The definition of fake news.

They also operate https://cryptopr.com/, who literally list 'shilling' as a service on their homepage. For those who don't know: "A shill is a person who publicly attempts to constitute, increase or sustain credibility and/or approval of/to an entity without disclosing that they have a relationship with the entity, understating the type, importance or closeness of said relationship or concealing the actual role in which they perform for said entity."

Just look at posts on other sites like this: https://www.sfweekly.com/sponsored/top-10-best-cryptocurrency-redditors-are-buying-2022/ It even says it's sponsored!
How can investors be so naïve? LuckyBlock is an obvious scam lol!
Therefore, given all these factors, we have come to the conclusion that the project is a scam that has been perpetrated like all of the past projects by Finixio, and we think investors would be best advised to stay away from it.
Tips for New Traders on Spotting Scams
For any trader new to the world of crypto trading, it is important to know what to look out for when trying to identify potential scams. The following tips should tell you the red flags that might possibly signal that the project deserves a closer look before you invest.
Promises of returns that are guaranteed It is impossible for any financial investment to promise future returns because the value of assets may both rise and fall. Any cryptocurrency deal that guarantees you will earn money is a red flag and should be avoided.

A subpar or nonexistent whitepaper: A whitepaper is one of the most important components of an initial coin offering (ICO), and every cryptocurrency ought to have one. If it does not, this is a red flag. The whitepaper needs to include an explanation of how the cryptocurrency has been developed and how it is going to function. Take extra precautions in the event that the whitepaper is incomprehensible or, even worse, does not exist.

An excessive amount of marketing: Every company advertises itself. However, one strategy that fraudulent crypto exchanges use to bring in customers is to pour a lot of money into marketing efforts. These efforts can take the form of hired influencers or internet advertisements. This is intended to generate as much money as quickly as possible by reaching out to the greatest number of individuals in the shortest amount of time. Take a step back and conduct some more investigating if you have the impression that the marketing for a cryptocurrency product is being pushy or making grandiose promises without providing evidence to support them.

Unnamed members of the team: It should be easy, with the vast majority of investment companies, to learn the names of the key persons behind the firm. Typically, this entails making the biographies of the individuals who operate the investment simply to access, in addition to maintaining an active presence on various social media platforms. Be wary of cryptocurrencies for which you can't discover the identity of the entity operating them.

Free money: Any investment offer that promises free money, whether in the form of fiat currency or cryptocurrency, is probably not legitimate.
How to Protect Yourself From a Scam Project
There are a lot of smart and convincing crypto scams out there. The following are some measures of self-protection that you can take:
Safeguard your wallet: In order to invest in cryptocurrencies, you will need a wallet that comes equipped with private keys. It is quite probable that the business you are dealing with is trying to con you if it requires you to hand up your keys in order to join in an investment opportunity. Keep your wallet keys confidential.

Keep a close check on your wallet app. When you initially transmit money, you should only send a little amount to verify the authenticity of a crypto wallet software. Stop the update on the wallet app if you see any unusual behavior while you're performing it, and then delete the wallet software altogether.

Invest only in items that you fully comprehend, such as: If the operation of a certain cryptocurrency is not apparent to you, then it is in your best interest to take a break and conduct a further study before deciding whether or not to invest in it.

Be patient: con artists will frequently employ high-pressure techniques in an effort to persuade you to spend your money as fast as possible. For instance, they may promise you incentives or discounts if you engage right immediately. Before you put any money into something, make sure you take your time and do some independent research.

Be aware of advertisements on social media platforms; cryptocurrency con artists frequently utilize these platforms to promote their fraudulent schemes. They could create an impression of credibility by using unlawful photographs of celebrities or high-profile entrepreneurs, or they might promise freebies or free cash instead of delivering on their promises. Always approach chances related to cryptocurrencies that are pushed on social media with a healthy dose of skepticism, and make sure to complete your research before jumping in.

Ignore unsolicited calls: If someone phones you out of the blue to try to offer you an investment opportunity in cryptocurrency, you should assume that it is a scam. Under no circumstances should you provide private information or provide money to someone who approaches you in this manner.

Only download apps from legitimate platforms. Despite the fact that phony programs may make their way onto official platforms like the Google Play Store and the Apple App Store, it is much safer to download apps from these platforms than from any other source.

Do your homework; the largest and most widely used cryptocurrencies are not Ponzi schemes. But if you haven't heard of a certain cryptocurrency before, you should do some research on it. Check to see if there is a whitepaper that you can read, learn about the people who manage it and how it functions, and seek reviews and testimonies that are authentic. When looking into potential frauds, it is a good idea to search for an up-to-date and reputable list of phony cryptocurrencies.
If a company guarantees returns on investments or claims it can make you wealthy overnight, you should be wary of doing business with them since they are likely hoaxes. Be skeptical of anything that sounds too wonderful to be true and proceed with caution.
Last but not least, like with any other potential investment, you should never invest money that you cannot afford to lose. Even if you are not the victim of a scam, understanding the dangers associated with Bitcoin is vital because of its volatile and speculative nature.
Latest News