Bitcoin Retains $17k while Volatility Dips, ETH Above $1,200: Market Watch
Bitcoin retains 17k but is gradually trending down while Ether is retesting the $1,200 price level.
The worst performing tokens are Algorand (ALGO), Chain (XCN), Neutrino USD (USN), and IOTA (MIOTA).
The best performing cryptocurrencies are Bitcoin SV (BSV), Stacks (STX), Neo (NEO), and Decred (DCR).
The total crypto market liquidation in the last 24 hours amounts to $33.05 million of which BTC makes up around $12.31 million.
---
The crypto market was unable to gain bullish momentum on Friday, and it seems that this week might end up on a bearish note like the previous one. Interestingly, the trading range of the world's biggest cryptocurrency, Bitcoin (BTC), has been relatively shorter, and it seems that expecting higher prices in the current macroeconomic environment is not feasible.
It is crucial to note that the Bitcoin (BTC) price action has been constrained between $16k and $18k, and it seems that until we see the leading crypto coin make a move towards $24k, a trend reversal cannot be expected. Additionally, BTC has also witnessed a steady accumulation period on the daily chart after a large-scale distribution phase in September. Large-scale corporate implosions and regulatory uncertainty have kept institutional players at bay as well.
Bitcoin has been unable to push through and hold price action above $18k which indicates that investors are not very active currently and are very careful with their money. Worsening inflation and rising CPI rates could also be reasons for the low inflow of money into high-risk assets.
As of 1:05 am ET Thursday, the price of 1 Bitcoin (BTC) is around $17,406 and is down 1.79% in the last 24 hours. On the other hand, the trading volume of the crypto coin has dipped 24.03%, which confirms a lack of volatility while the market dominance of the token stands at 39.43%.
Additionally, the market capitalization of BTC has dropped significantly from its all-time high of $1.2 trillion. Additionally, in the last seven days, Bitcoin (BTC) has risen 1.09%, and gradually, the gains made from earlier this week are being eaten up by the bears, who are currently in control.
Moreover, the chart below from PricePredictions shows that Bitcoin is now forming lower lows on the hourly chart, which confirms that a downtrend has been established on the shorter time frame. Additionally, a retest of $16k is more likely if the trend continues and buying volumes do not increase.
The sentiment of the crypto space has turned bearish in the past few hours, and investors are advised to not sell but hold on to their tokens. On the other hand, traders are advised to refrain from trading.
The indicators for the Bitcoin price action are all bearish on all time frames, and overall, it is indeed possible for BTC to drop lower and retest the nearest support at $16k if $17k fails to hold. The RSI and MACD indicators are also bearish on the 5, 15, and 30 minute time frames. This means that the sellers are currently in control. Moreover, the 1 hour, 2 hour, 4 hour, and 24 hour charts indicate that changes in breaking and entering the $18k-$20k region have dropped considerably.
The overall market movement is currently neutral, and it has been the same for the past few hours due to a drop in volatility. For similar timely predictions, traders can register on PricePredictions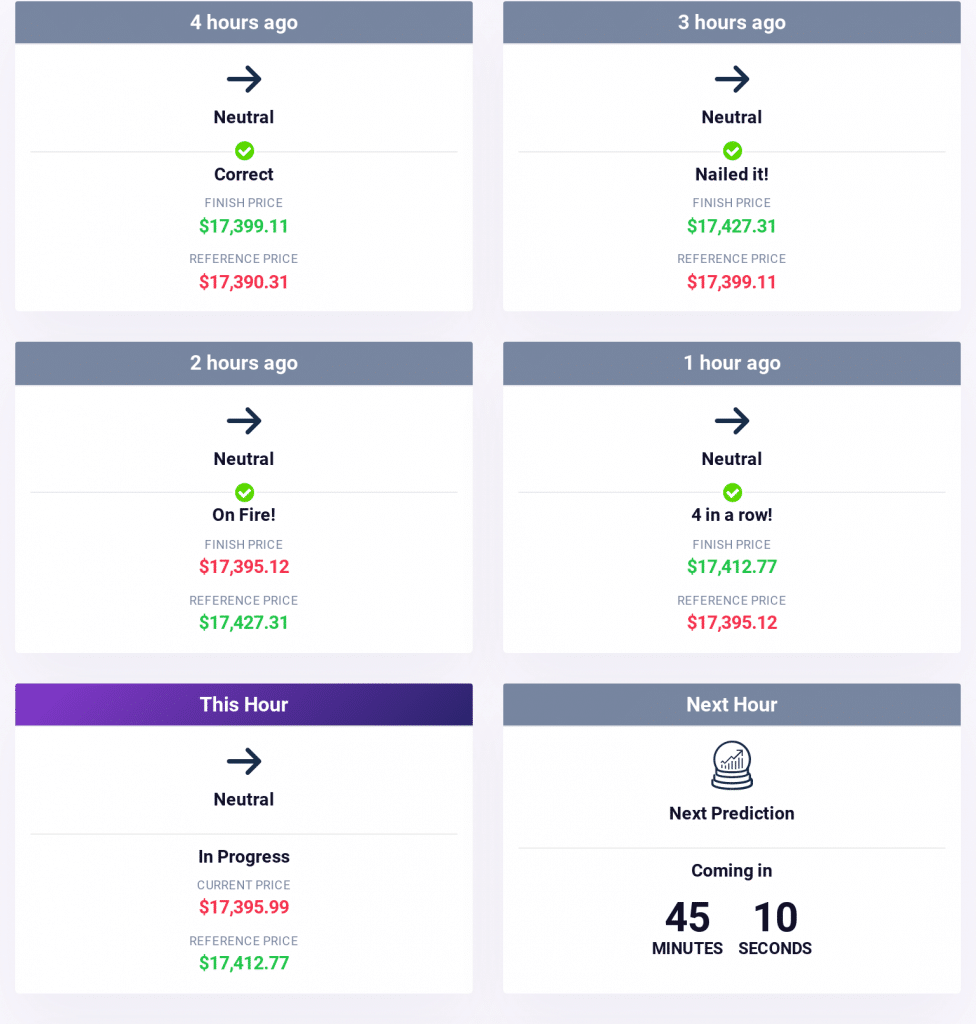 Additionally, as per the publicly available data, the crypto market's Fear and Greed Index's value has dropped to 29, after rising to 31 from 30 as per our Crypto Market Performance Report for Dec. 15. Investor sentiment currently reads "fear."
Furthermore, the market cap of the entire crypto space at the time of publication stands at $849 billion, and this value has decreased 1.37% in the last 24 hours. Additionally, the number of cryptocurrencies is 22,051, as listed on CoinMarketCap.
Moreover, the world's second-biggest cryptocurrency, the Ether (ETH) token is down 1.79% in the last 24 hours and is currently priced at $1,269. While ETH did break above $1,300 this week, it failed to retain price action above it. The trading volume of Vitalik Buterin's cryptocurrency has dropped by 36.43%, while the market dominance has dropped to 18.30% from 18.35% in the past 24 hours.
According to the data from Coinglass, the total crypto market liquidation in the last 24 hours amounted to $33.05 million, of which, Bitcoin made up $12.31 million and Ether made up $10.39 million.
Excluding Bitcoin and Ether, the other top 10 cryptocurrencies in the industry are Binance Coin (BNB), Ripple (XRP), Dogecoin (DOGE), Cardano (ADA), and Polygon (MATIC).
The other top 10 cryptocurrencies show bearish movements with BNB down 1.52% to $261.27; XRP down 0.68% to $0.3786; DOGE down 2.21% to $0.08602; ADA down 1.77% to $0.2993 and MATIC down 1.82% to $0.8847.
On the other hand, the worst performing tokens in the last 24 hours among the top 100, excluding the top 10, are Algorand (ALGO), Chain (XCN), Neutrino USD (USN), and IOTA (MIOTA).
Interestingly, ALGO was down 5.28% to $0.2108; XCN was down 6% to $0.03095; USN was down 12.89% to $0.5591; and MIOTA was down 5.94% to $0.1855.
Finally, the best performers in the top 100, not considering the top 10 cryptocurrencies are Bitcoin SV (BSV), Stacks (STX), Neo (NEO), and Decred (DCR).
BSV was up 2.87% to $47.94; STX was up 2.41% to $0.2737; NEO was up 2.36% to $7.42; and DCR was up 4.73% to $21.94.
Latest News